What a day at the track.
Being the end of October, I wanted to make one final attempt on getting further into the tens with the car. The expectations were to go out on a sunday doing what I love- Drag racing the colt.
Woke up bright and early at 5:00 am to start prepping tools, fluids and the general track gear that is required. -only to find that the battery for the colt ( was virtually dead) - Great way to start the day . After fidgeting with the charger and lines - I was able to get about 60% battery life, which then fired up the car. The plugs were definitely fouled out, so Jeremy took it for a quick drive around the neighbourhood to "clean the plugs" - I m sure the neighbors hated me on that early sunday morning
Get to track unload the car- and my goodness was it just a beautiful day, air temps were about 50 degrees and rising, sunny , low humidity - perfect for the colt that was about to get its butt kicked.
After returning from getting teched-- I wanted to change the rev limit on the car to about 8300, as I had a feeling we would be bumping that. Low and behold, when we went to flash the car.. the damn ECU got bricked. ( Its a good thing that I had an extra computer in the tool box) just for such events. The computer got bricked because there was not enough voltage in the battery for it to get flashed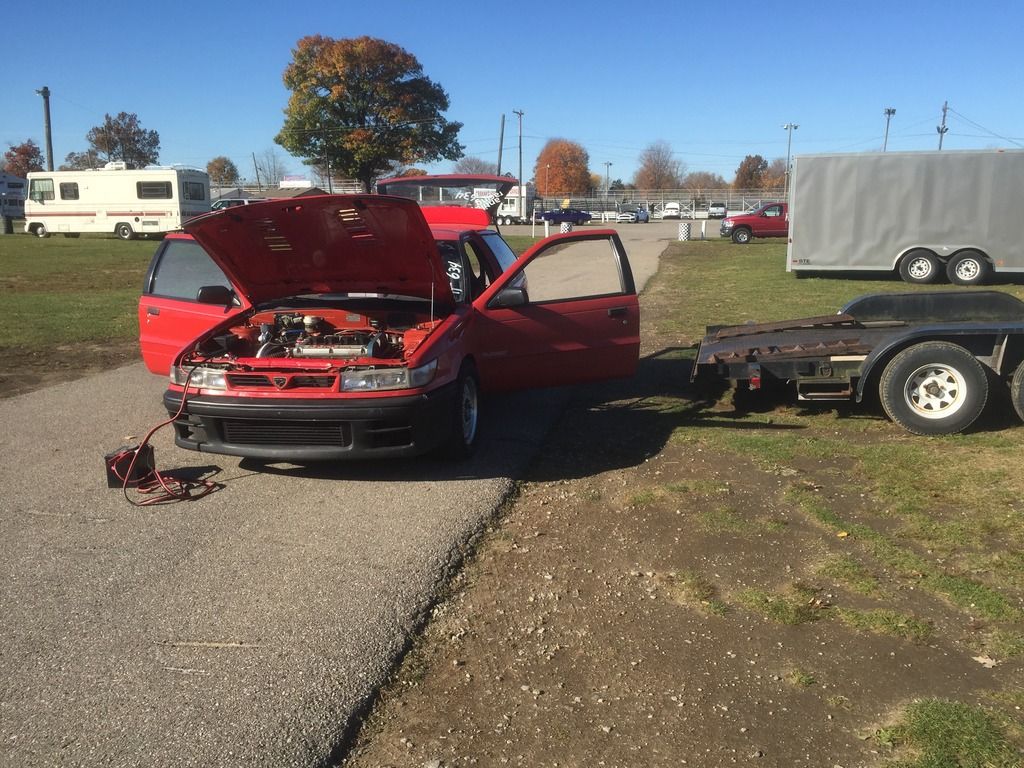 There was some gorgeous cars out there, tons of mustangs even this new turbo 4 cylinder roush mustang
The guys next to us were running a vega that had a 350 and were spraying. definitely one bad ass machine.
Brian warming up the nitrous with a map torch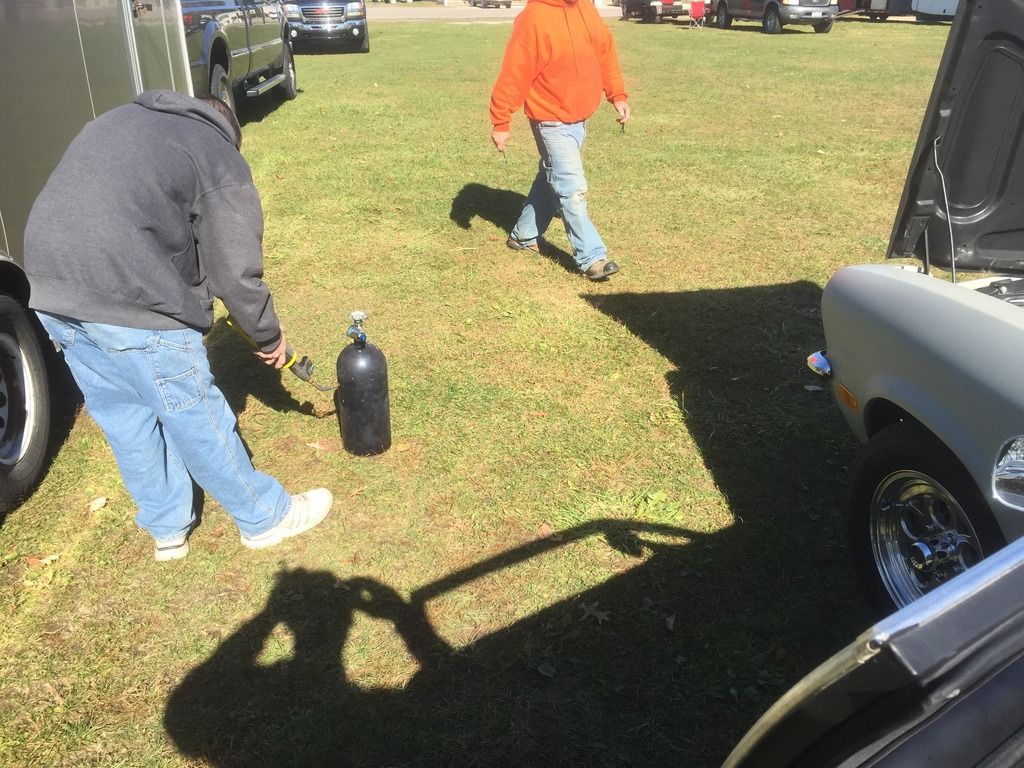 First pass out for me yielded a 11.2x @ 129.. the car was breaking up badly.. so we changed the plugs, and turned up the boost some more ( 44psi) .
The next pass yielded a 10.41 @ 134 mph Holy shit we were soo pumped because this just beat the cars all time ET by almost 3 tenths of a second. Not to mention we hit a 1.47 sixty foot ( another PB) .
Next pass out -- decided to give a little more duty cycle about 76% which mathematically yielded about 46 psi through the 3065. Who really knows what the boost was, because I only have a 4 bar map sensor. Dropped the tire pressure and went to out .
On the line, I wanted to ensure that I gave as much slip as I could, , the minute I let that clutch out, I could tell it was a good 60', rode that rev limiter , and smashed 2 nd gear.. took a quick glance at the fuel pressure - which was now around 84 psi.. all I could think to myself two more gears to go-- don't screw up.. clean shift on number three, and this is when the power started to pour in , I almost NLTS 4th but choose not to, almost put my foot through the floor, even banged my head against the cage.
Getting my time slip .. Holy shit 10.20s @ 133... but I was really geeked about, was that 60', 1.40s are the best I have EVER hit with any car, from the auto FWD to my old evo.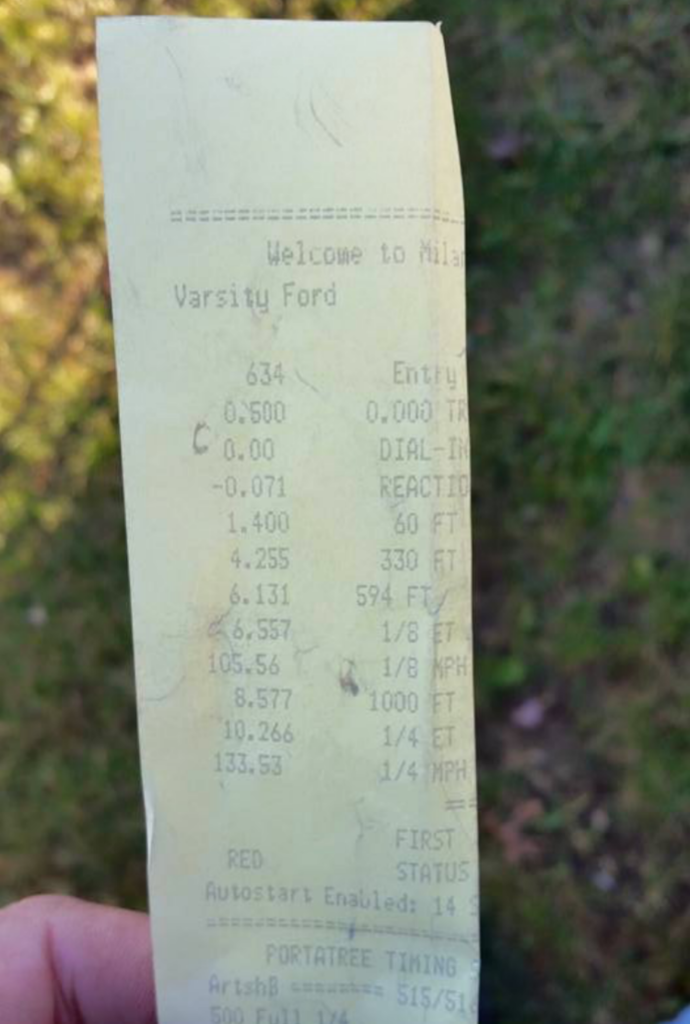 Time for some beer to celebrate . I just thought to myself.. This is a cheapest car I have, with left over parts and it has given me the BEST ET to date, after the 1000s upon 1000s of dollars I have spend over 15 years on my other cars. Go figure right? It is a great feeling that I want to share with all of you.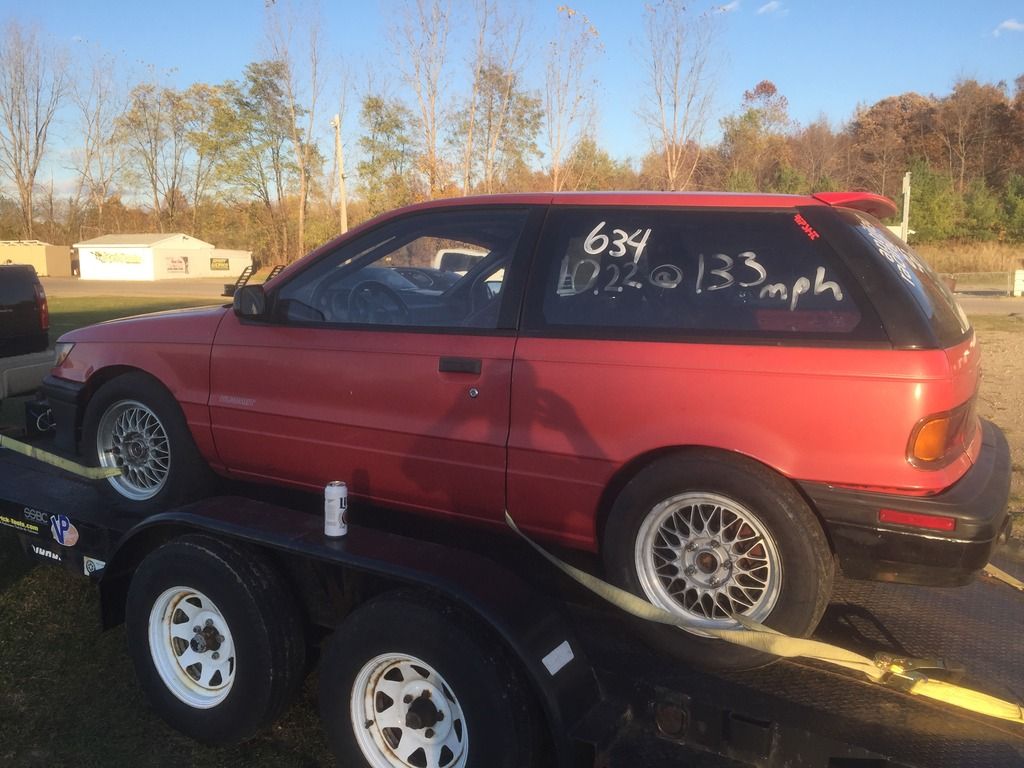 Winter mods are now in effect . the colt is getting a 2.3 engine with a nasty cylinder, if I am feeling spunky it might be time to place a 35r on it .
Thanks for reading and its days like this that remind me of what a great sport drag racing is. Meeting awesome people, problem solving and sharing a passion that can only be described as exhilarating.