Hey Everyone!
I'd like to introduce myself. My name is Zach and I live in Northeastern Illinois. I'm 18 and a Freshman in college, going to major in Graphic Design, or Illustration.
I've owned my 92' Dodge Colt for a little over two years, believe it was Aug 2010.
I did not post many photos of the car when I got the colt because I never thought I would have any intentions on doing anything to it, but these are pictures I had taken off of the Craigslist post from the seller: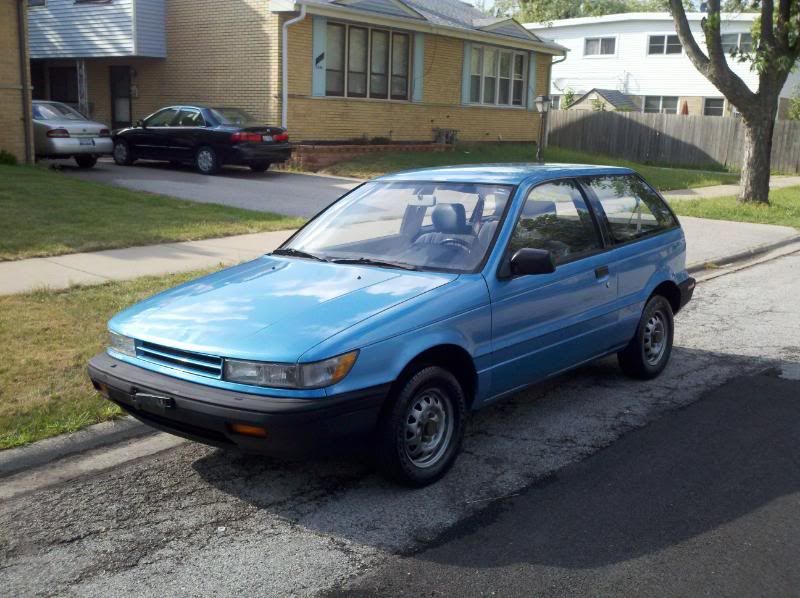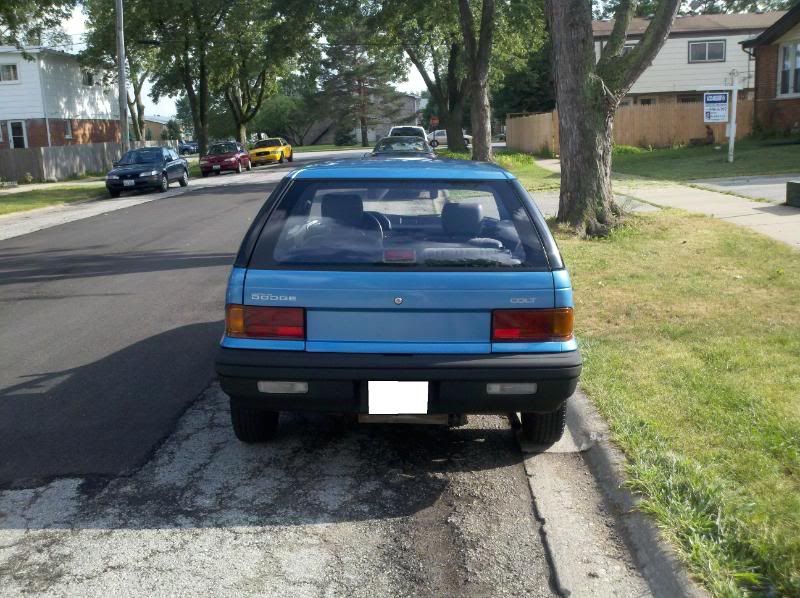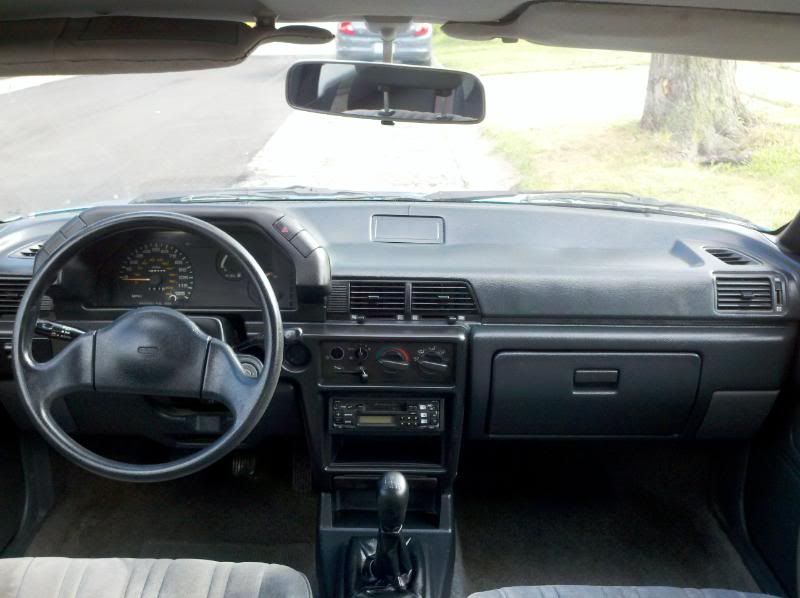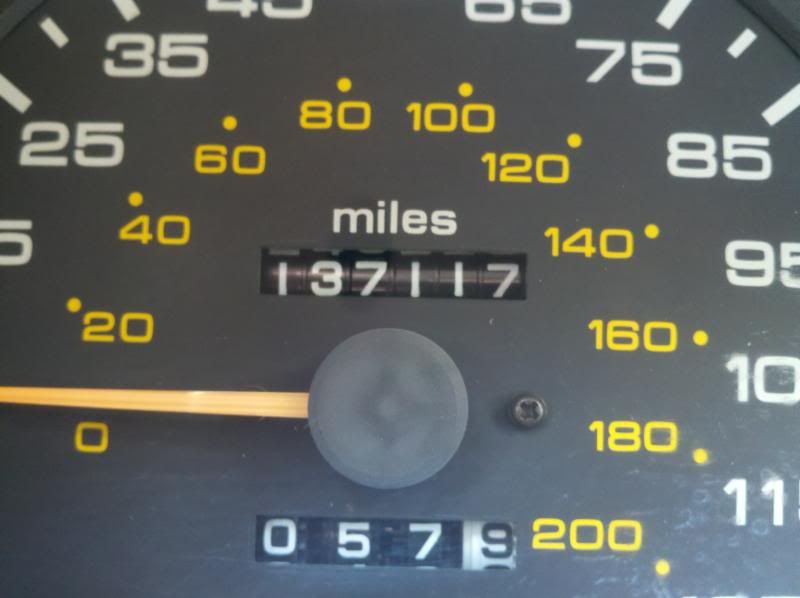 Sorry for all of the pictures! Figured it would give everyone a better idea of how the car was when I purchased it. If you'd like to see a few more from when I had bought it that I hadn't posted here, here is a link to my Photobucket -
MorePicturesHere!
I then started researching the car, and was learning things about cars myself as I have always been asking questions. I'm still young and have PLENTY of learning to do.
Then something sad had happened. I was up in Milwaukee for Summerfest and brought one of my friends with, paid for him and saw Rise Against. We got home around midnight that night, and went to my house first, then decided to go over to his house because there was a few people over there and his family was in town. I fell asleep later that night, and I woke up to an feeling that something was missing. My keys. I looked outside to see the front passenger side of the car was crashed. I found out someone stole the keys out of my pocket while I was asleep. My car had still been okay to drive, and drove it home later that day. I looked for 3-5 months to find parts for the car. I found a hood, fender, front headlight, and a side marker light. I went through the process of bending the body panels and inner fender well back to its original shape and trying to put all of the pieces back together (It was the first time I had done any of this, let alone most of it by myself with some help from my grandpa). I took off the small amount of pin stripping it had, sanded everything down and started to fix the rust that was starting to come through. First time with Bondo as well, which was a much easier fix for me instead of welding new sheet metal on (I was trying to get it done so I could drive to school and back).
Here are some pictures I took while I had been fixing it up: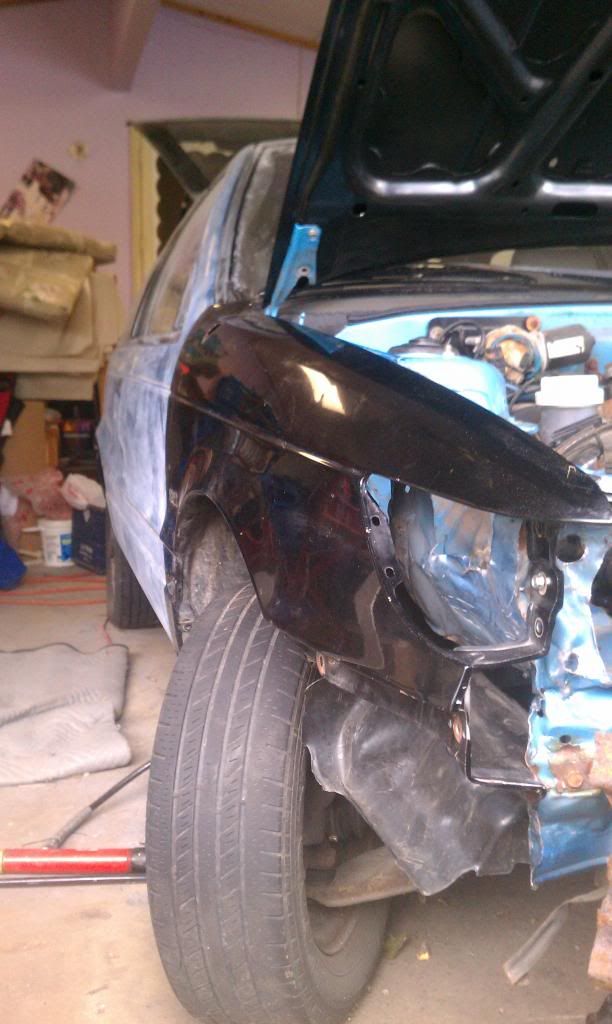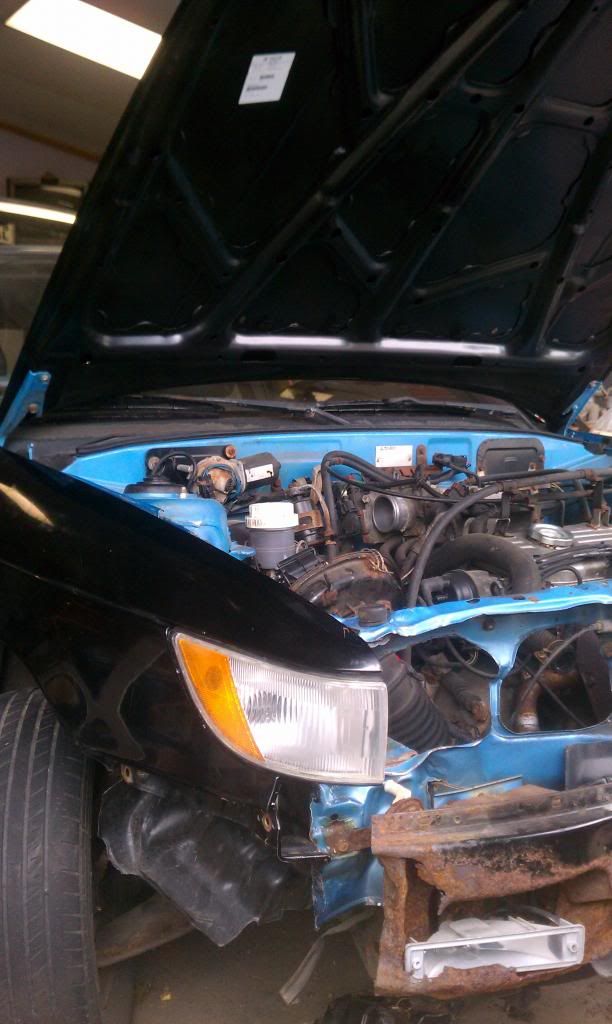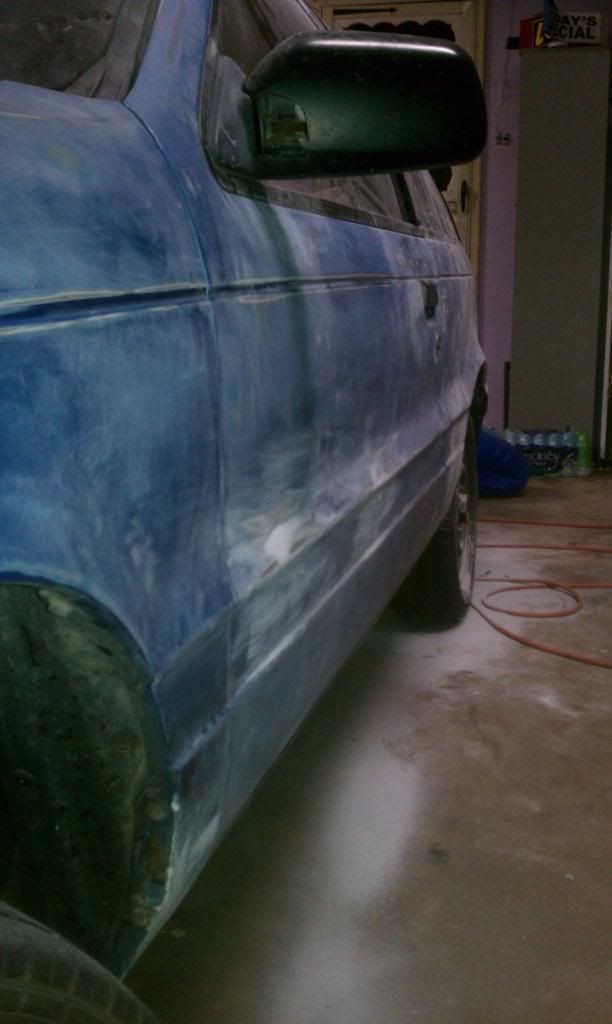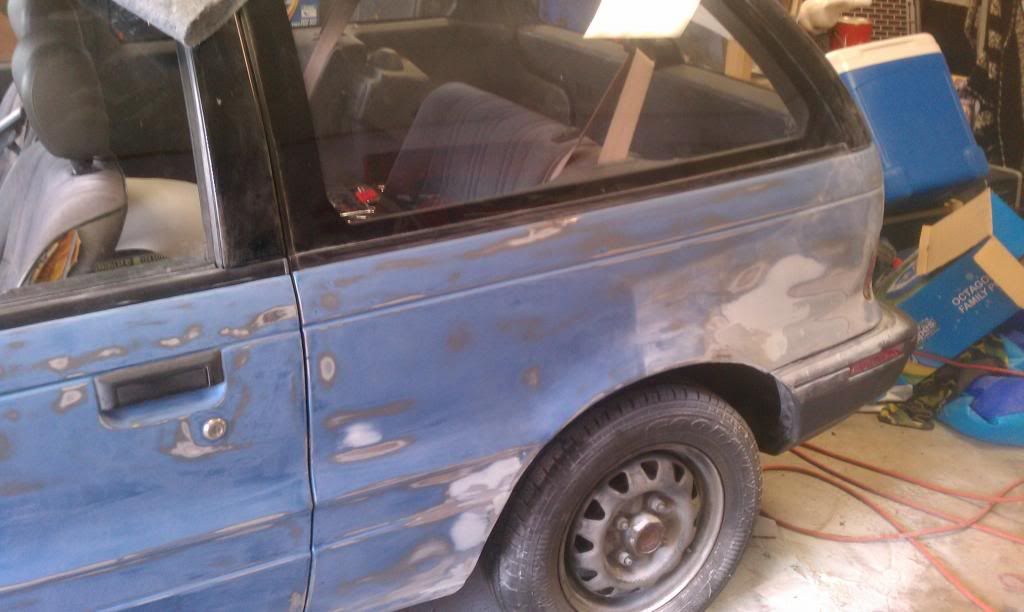 I then thought to myself that my car had been one color when it was crashed, figured I'd make it one color when I was finished. After everything was ready for paint, I had driven it down the road to my neighbor's house. We brought it into the garage and started to tape off the windows. We washed it down so there wasn't anything to mess with the priming process. After we did that, we sprayed it with some self etching primer. We let it dry that day and didn't start painting until the day after. The primer gave the car a whole new look as it was all one color again. The day after I went over there again and we had started to paint, I was very anxious to see how it was going to turn out.
Here are some pictures of the painting process (First time I had ever painted a car as well):
Primer: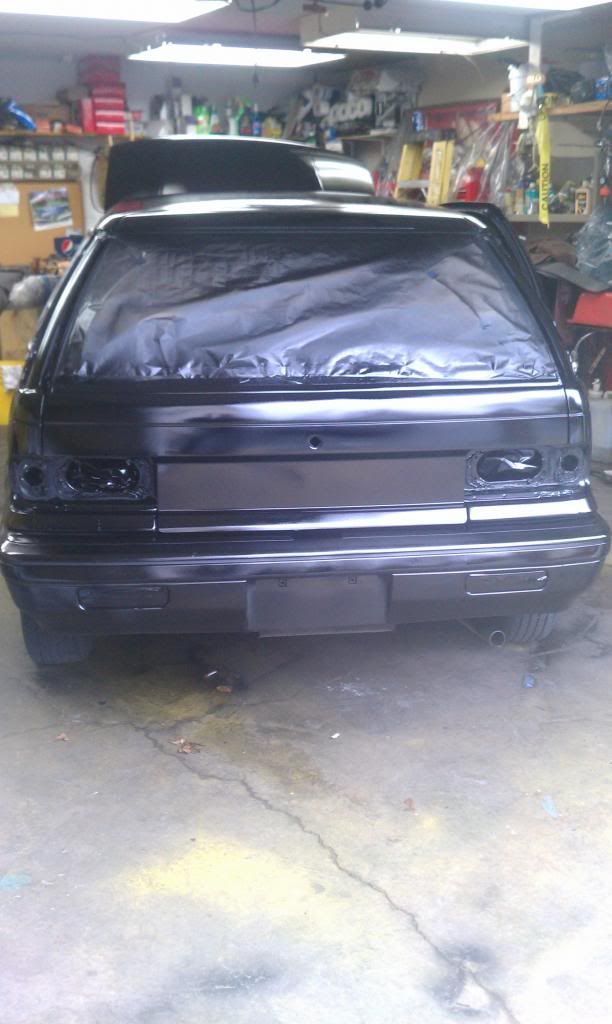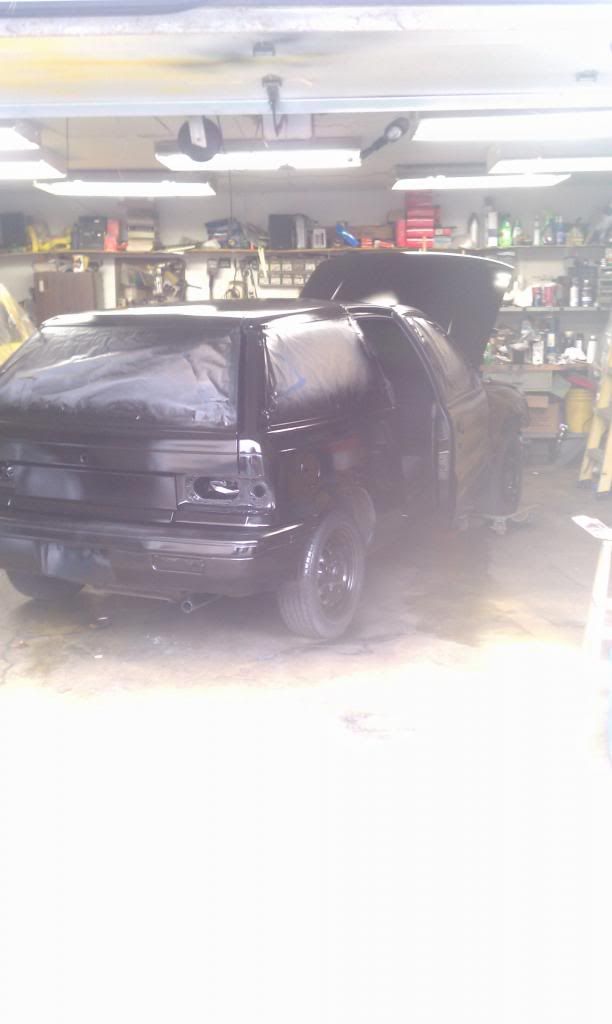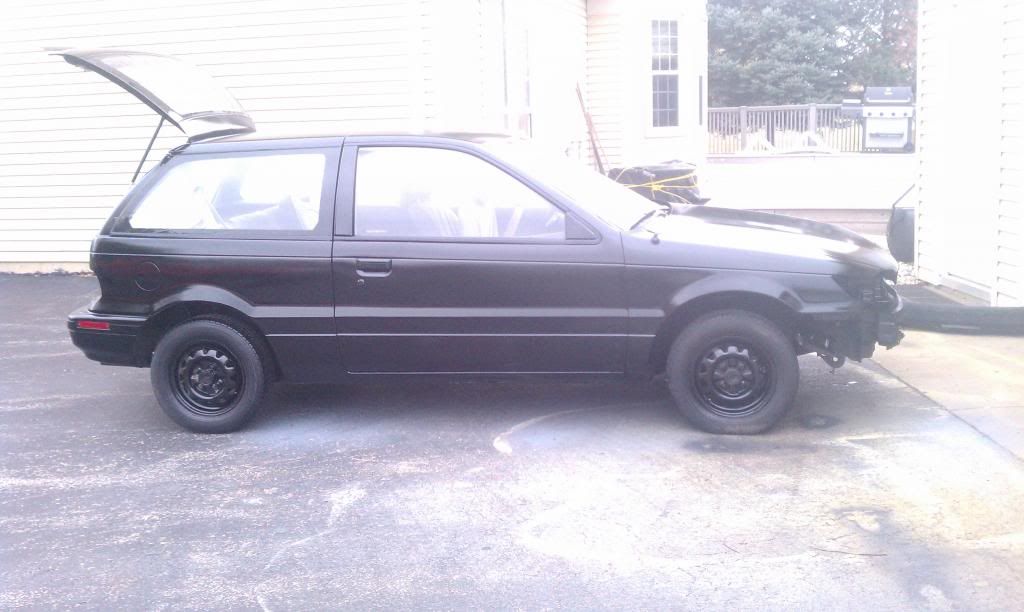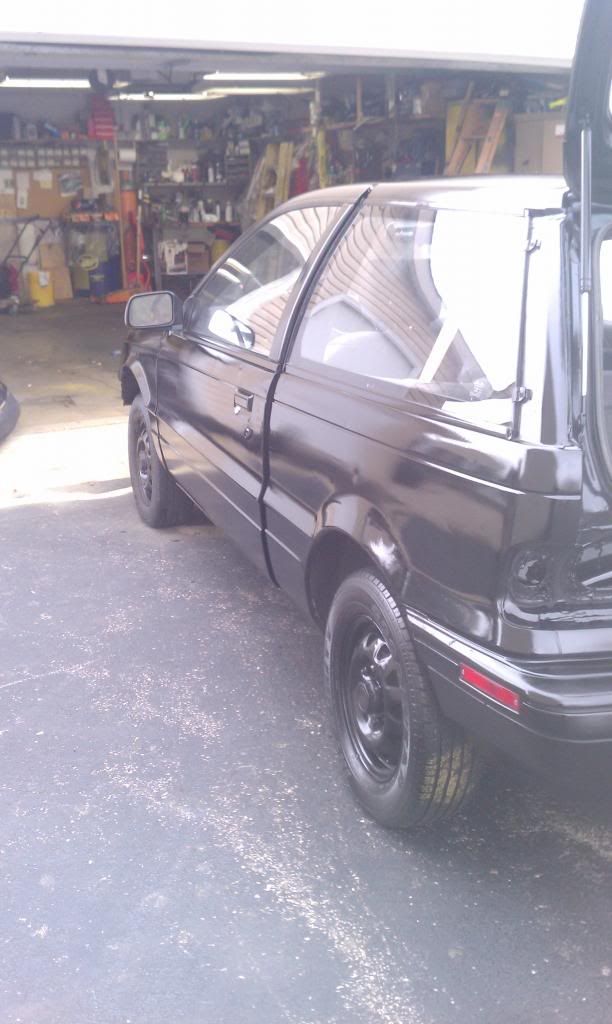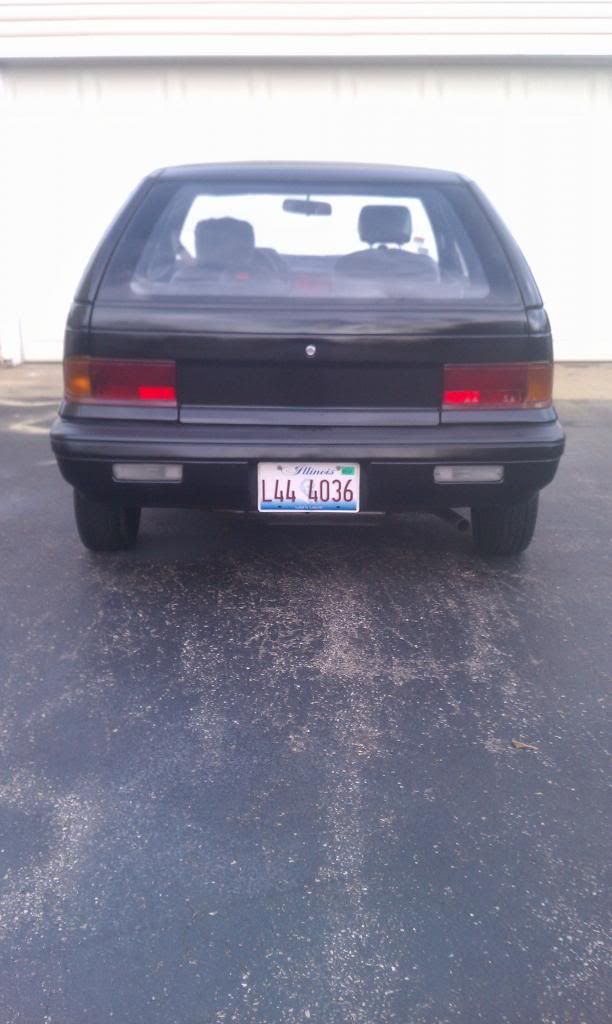 Putting the front bumper cover back on: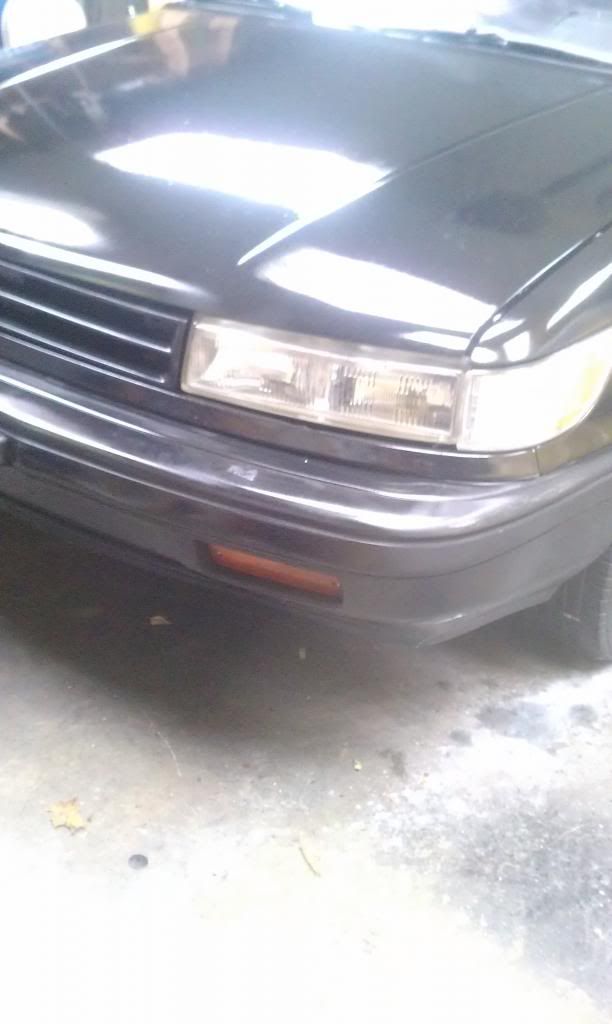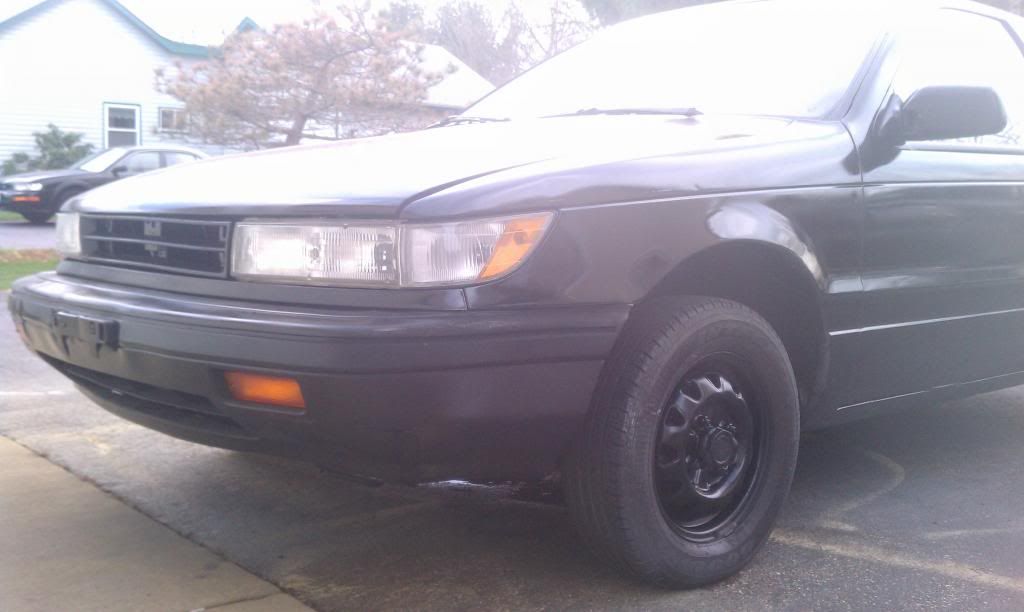 ----------------------------------------------------------------------------------------------------------------------------
I didn't do anything to my car in a while after that, and decided to tint my taillights earlier this year, here are some pictures: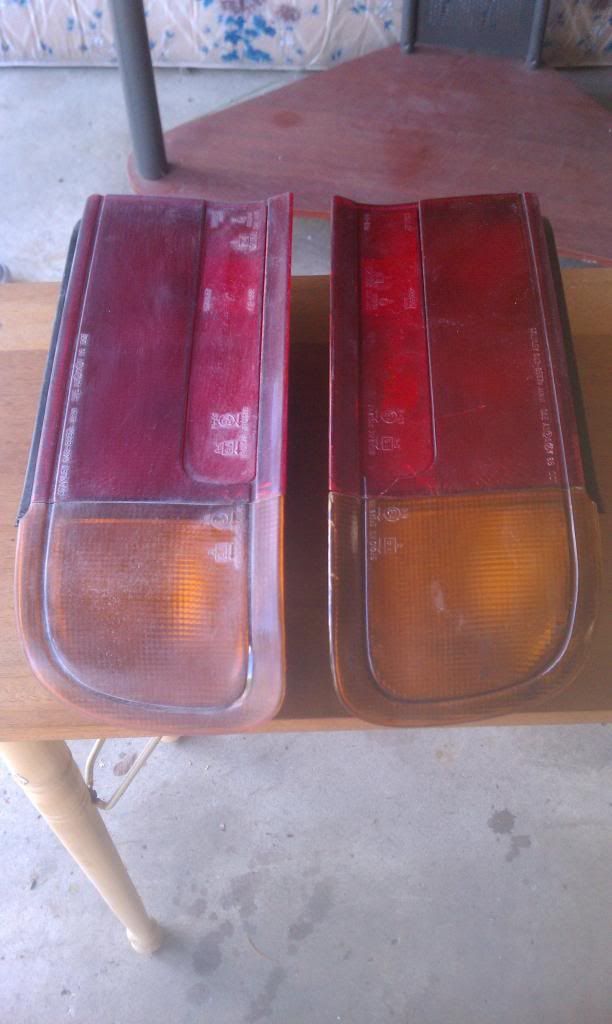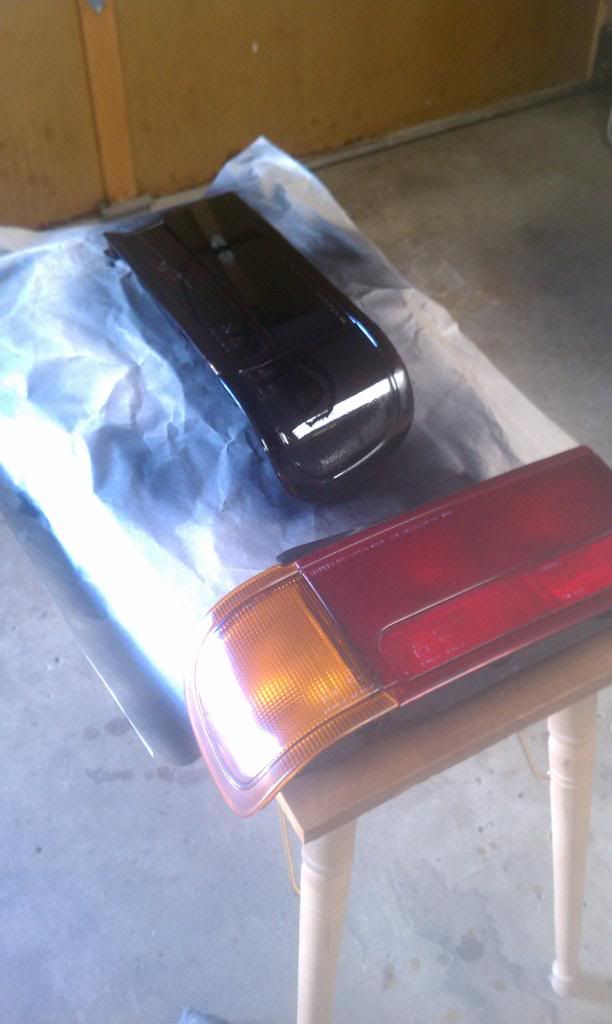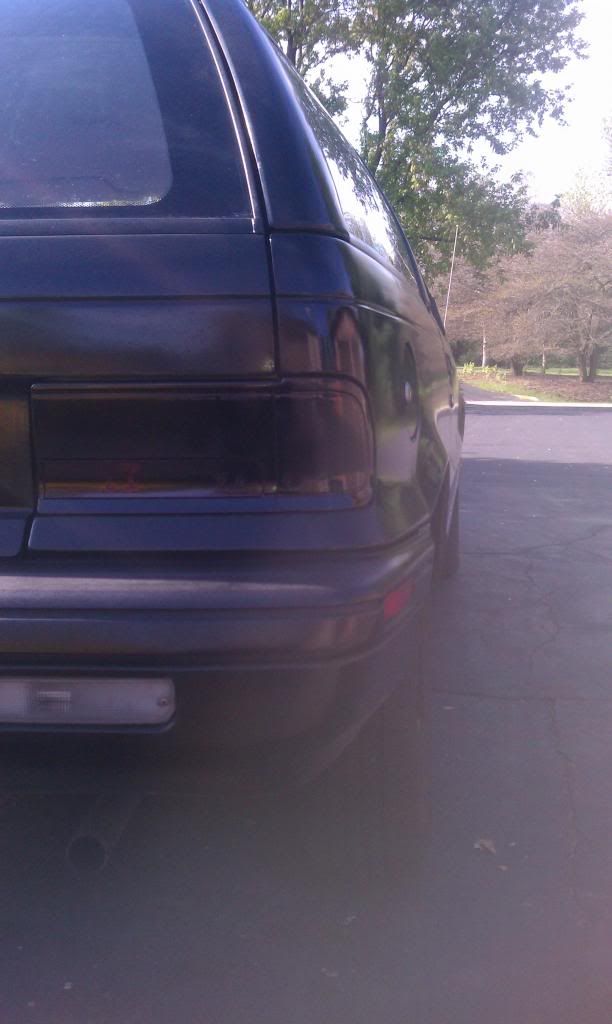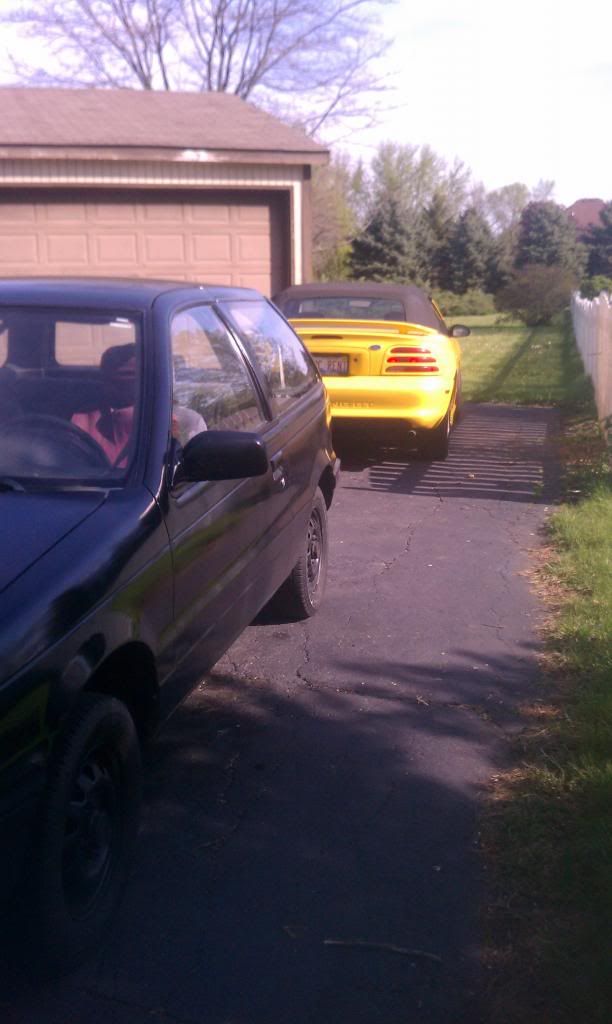 ----------------------------------------------------------------------------------------------------------------------------
My friend drives a 2001 Hyundai Elantra and it has 15" 114.3mm wheels, and I wanted to see how they would fit.
Before: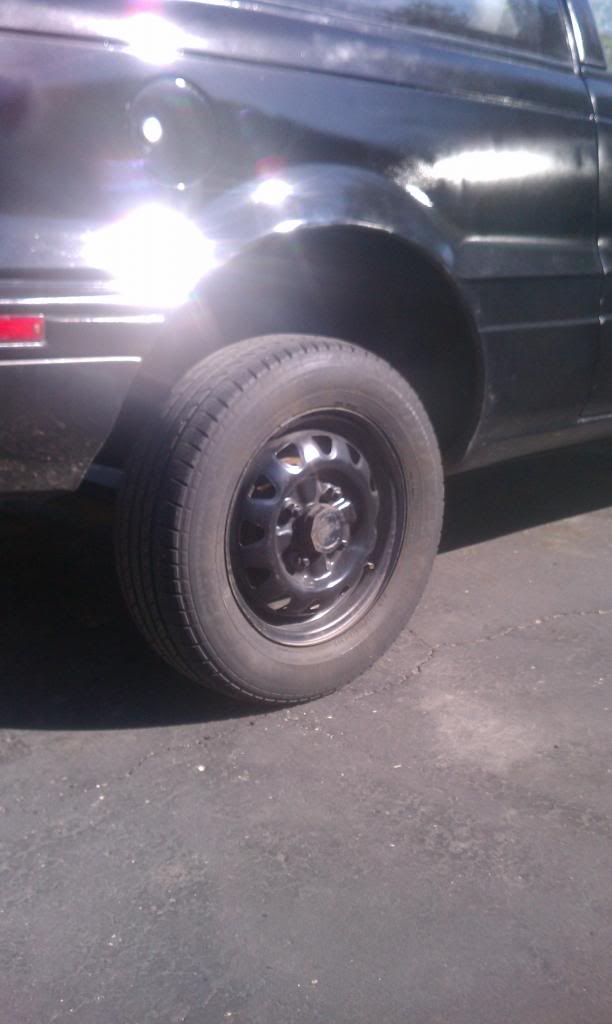 After:
I don't remember the exact size of his tire on those, but they did increase the ride height a little bit which is what I would not like. I do think they looked way nicer though.
I don't remember the exact reason why, but I really wanted to clean up the interior a bit, so I went out and bought some interior glossy black paint and painted the trim and what I could: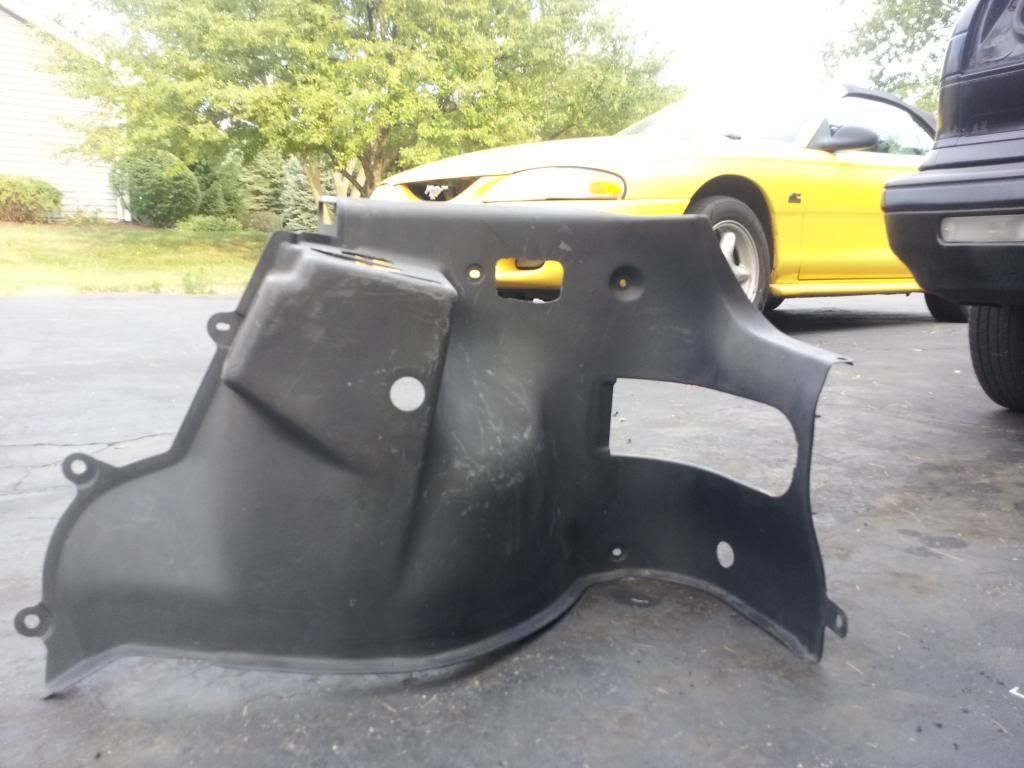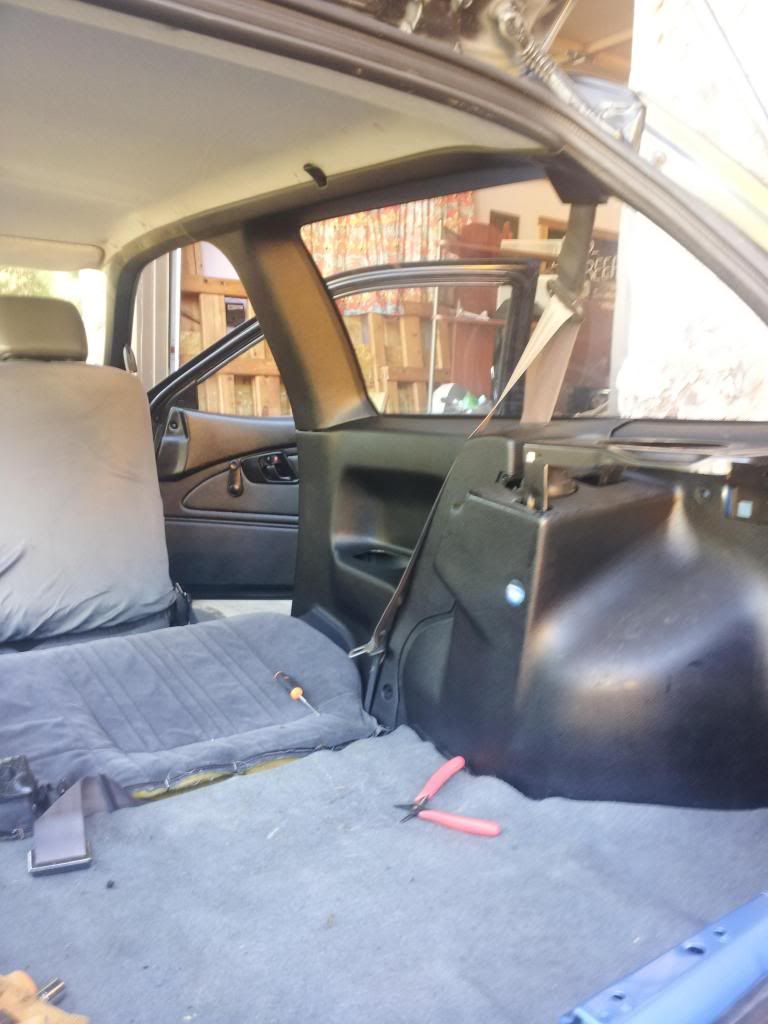 During all of this, I also found some rear speaker mounts and covers from a local junkyard and was installing them: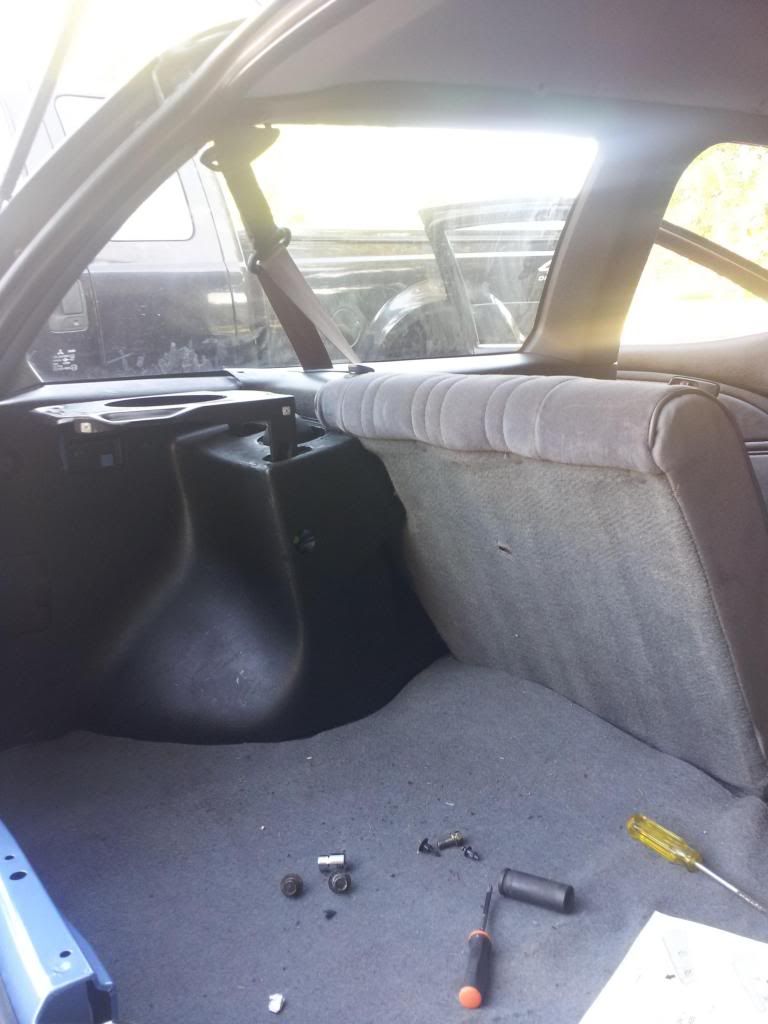 I purchased a Kenwood Headunit and a pair of 6.5 Pioneer speakers to install into the mounts: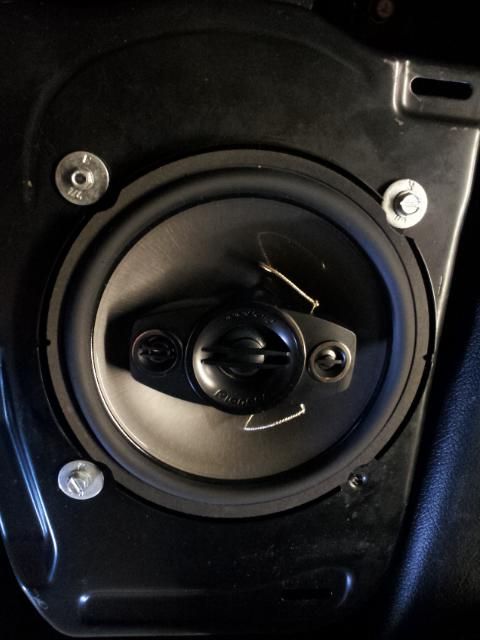 ----------------------------------------------------------------------------------------------------------------------------
I went down to Discount Tire to look at some Tires because I needed them badly, which got me thinking into buying a set of rims. I was looking at them for a while, and ended up ordering a set of 15" Drag DR5s on Kumho 195/50/r15s, here are some pictures after I put them on: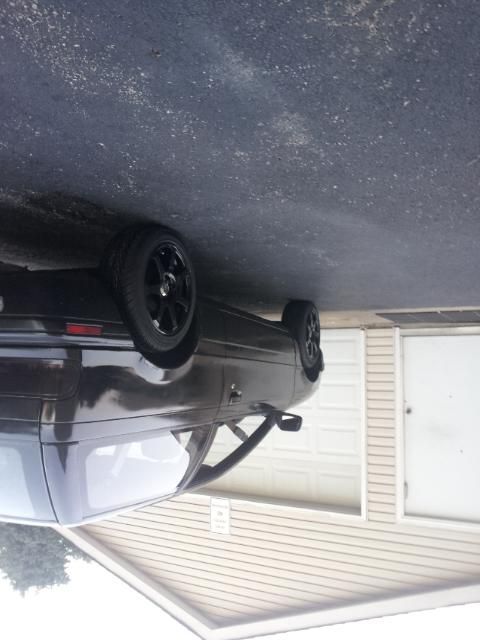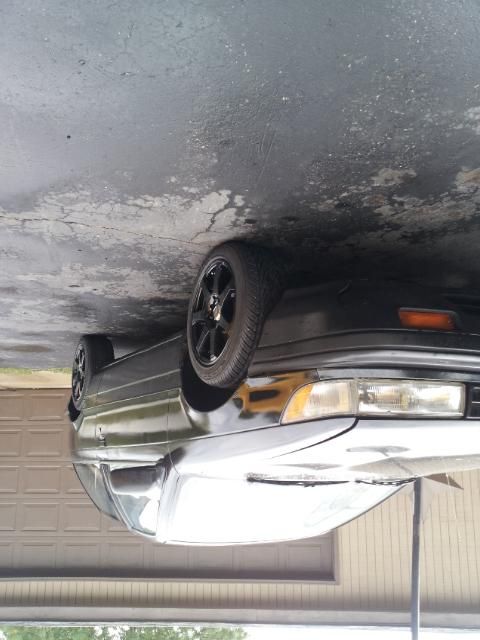 I think they look way nicer than the small 13s that were on there before with bald tires :p
I was looking for a passenger mirror ever since I had gotten the car, it was tough. I was at work one day, and a man walked in with something in his hand, walked up to me, and said here, I think you've been wanting this. I was in shock and very happy. I offered to give him something for it, but he said he it was fine, and he didn't want anything in return. It's been taking some time getting used to something that wasn't there for two years!
Again, I apologize for so many pictures!
Let me know what you guys think, any advice, questions or comments would be greatly appreciated. I do plan on doing the 4G63 swap in the future but not exactly sure when.
Thanks everyone for looking.
-Zach