Well.....its been awhile since I posted anything up. I have been super busy with the military and its hard to find time to squeeze in to work on my cars. I actually just left for South Korea about a month ago and just got to posting this up with some updated info. I will be in Korea for a year so its going to be along sad year away from cars... But I did at least get my colt on the road with a base tune before I left. I ran into lots of minor things that set me back for awhile but over time fixed them all and finished it up. The car is on the road now and running fairly good. I drove it about an hour to a car meet before I left and it made it there and back with no issues. Its currently on a base tune that I threw on it just to get it on the road. I am proud though that i did get it running considering i just crossed over to Speed density, E85, and 2150cc injectors. I jumped into the conversion with little to no
knowledge and only forum thread reading to get started. I am still very much a DSMlink newbie but have played around with it enough and had lots of trial and error to get the car going and base tuned. I am just going to post up some current pics and some videos that i took before I left. it still needs some work and a definate tune by someone who knows what they are doing. On my last couple of pulls I was spinning through street tires @ 28 psi and it felt amazing. This is definately the fastest car I have owned at it has alot of potential. After a few pulls I felt complete
I can't wait to see what this car is capable of in the near future. So now its a year of planning and researching while I am in Korea so I can come back and hit the dragstrip. I still have a 2.3 fully built stroker and shep stage 4 tranny that i haven't installed....
Current MOD list
Engine:
6 bolt block bored .020 over
New crank at time of build
Wiseco 9:1 compression Pistons
Eagle H-beam Rods
ARP Head studs, main studs
Fel-Pro Performance headgasket
Head was ported on intake and exhaust side
Manley valve springs
New valves at time of build
Forced Performance FP2X cams
Balance shaft removed
New oil pump
New water pump
New lifters
Drivetrain:
Trans has a welded diff and that all I know....
PTT Twin disk
AWD swapped with 4 bolt LSD rear
Custom 2 section driveshaft
Scatter Shield needs to be installed
Redline MT90 and heavyweight shockproof
Turbo:
Custom T3 topmount manifold
HX40 pro w/polished compressor cover
BEP .70AR mitsu style housing
Tial 38mm wastegate
Homemade ghetto side exhaust 3in downpipe out front bumper
Stainless feed from stock location
-10AN drain hose
Intercooler System:
Custom Air to water intercooler setup
Frozen boost Heat exhanger w/ temp sensor
Summit 1 Gallon fuel cell for Ice resevoir
A2W intercooler w/ Tial knockoff BOV welded on it
All -8AN pushloc hose and fittings
Genuine harbor freight Utility pump to a dash switch
Engine Management:
DSMlink V3 Speed Density
GM 4 Bar Map
GM IAT
Electronics:
AEM wideband gauge
Autometer Boost
Autometer Water temp
Autometer digital water temp (for A2W temps)
Autometer digital oil pressure
Autometer fuel level
Fuel:
FIC 2150cc Bluemax injectors
12 gal fuel cell in hatch
-6AN braided line to and from OE fuel rail that has been modified to accept -8AN to -6AN converters
Aeromotive A1000 fuel pressure regulator
Dual in-line walbro 255lph fuel pumps running off of proper rewire
Spark:
Homemade COP setup
Br7es plugs
MSD DIS-2 that needs to be installed
Optima REDtop battery mounted in back
MISC:
6 point cage welded to NHRA specs
Sparco fighter seats w/ G-Force harness
Hallman boost controller (soon to be ecu controlled boost)
Hall-effect black top CAS
Valve cover w/ -10AN fittings
TPR custom catch can w/ -10An lines
AFCO scirroco radiator
GVR4 brakes with Hawk street pads in front
Stainless brake lines all around
KYB GR2 struts up front KYB AGX out back
Ground Control springs and coil perches
eBay brand strut bars
Adjustable camber in rear via Ingalls upper control arms
Custom hood scoop and intake vent
DSM Laser front bumper
2G DSM eclipse wheels
90 Non turbo stock throttle body
1g slightly ported stock intake manifold
Dashboard Jesus for 5 extra whp!!
Here are some recent pics of how it sits now....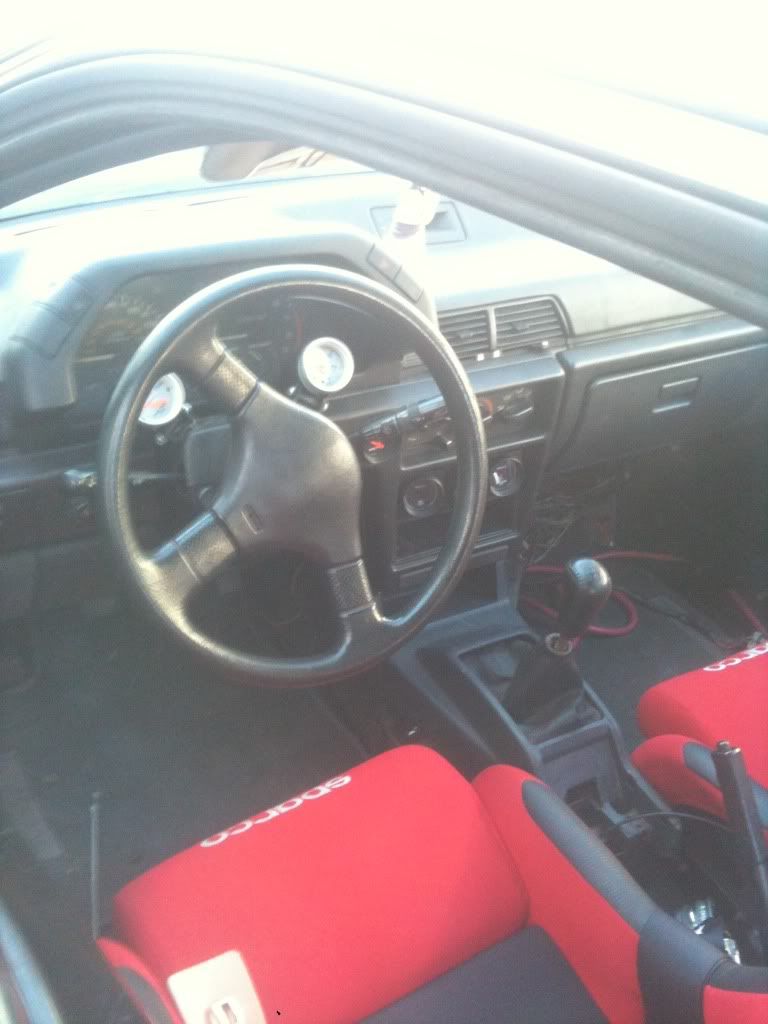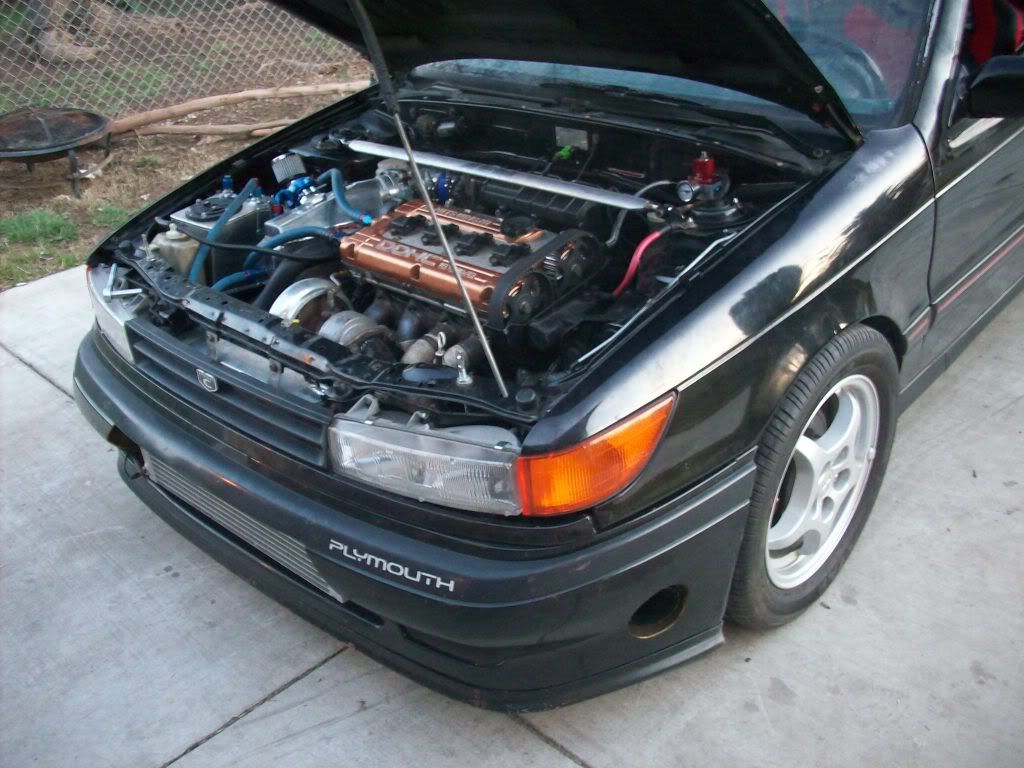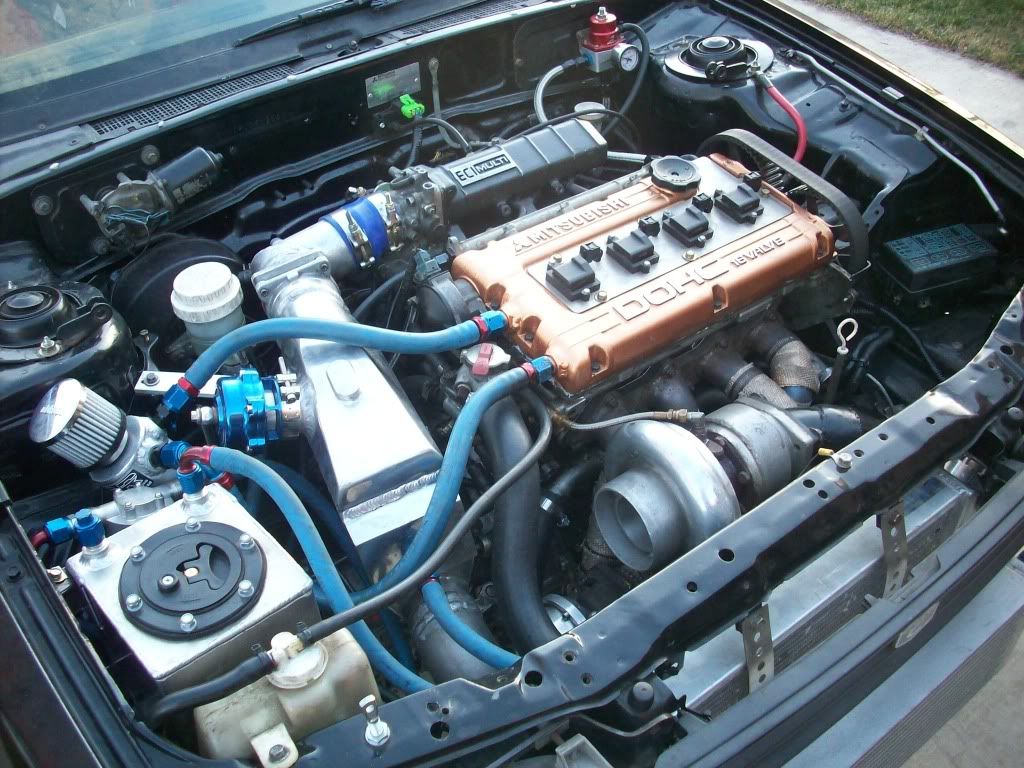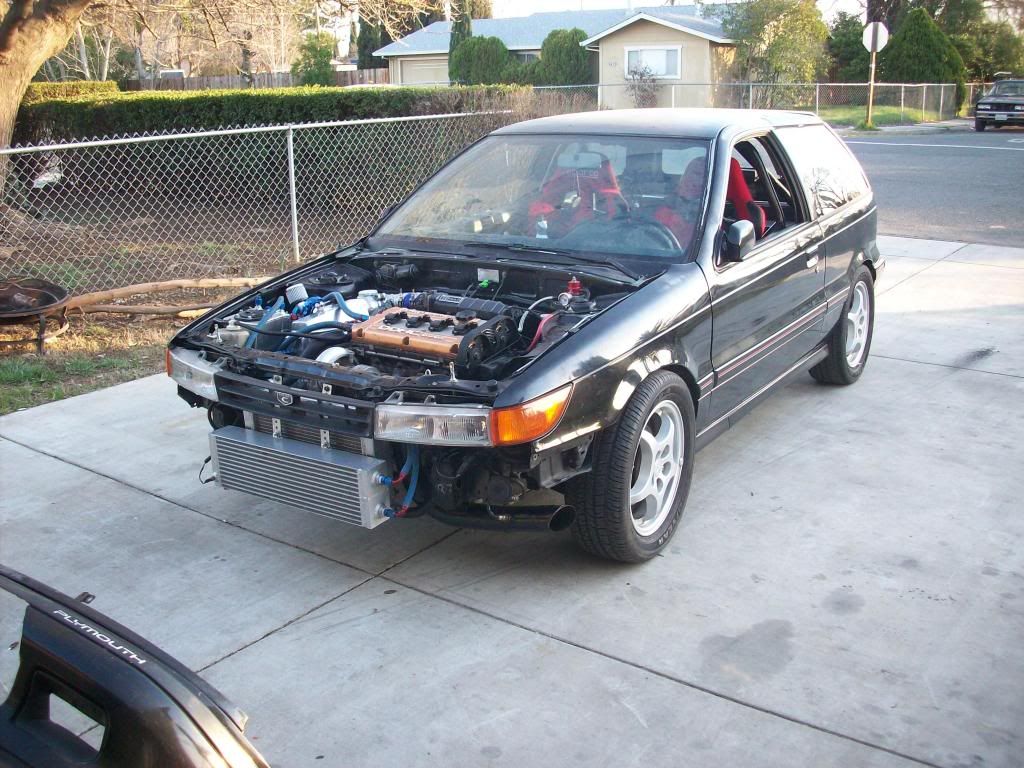 And here are some random videos I made before I left for Korea.
http://www.youtube.com/watch?v=Fo_qqB7OIMs
http://www.youtube.com/watch?v=60vsA3kvlG4
http://www.youtube.com/watch?v=qbvVsJw7yaM
http://www.youtube.com/watch?v=OHtw46tYP78