---
Before we get started with the build of the current car, lets get a little background.

About a year ago

So I have always been the type to help out all of my friends with their cars/builds. Heck,I pretty much built a car for a friend. It was fun for a while, then working on everyone else's car and not my own started to get old. So I started the search for a decent shell that wouldn't need too much work to make it what I wanted. I searched for a while, And found a 2G fwd with a 6 bolt swap for trade for a daily driver. I contacted the owner and he was interested in trading for one of my daily's. So The deal went through and I got the car. The owner didn't know much about the car, and when he told my how much he payed for the car I was dumbfounded. Come to find out the car had a fully built 6 bolt that the previous owner(wich turned out to be a friend of mine) built and never got it running. And this guy bought it and didn't know enough to finish the swap. So I parked it in a spare garage, and it sat for about 6 months. I didn't really want a 2g and I kept going back and forth on what I wanted to do with it. Finally I decided I was going to sell it and go back to looking for a 1g. So I put the shell and tranny up for sale. I figured what the heck I'll put the motor up for an amount that I wouldn't mind getting rid of it for. And within a few months the tranny and shell were sold, for alot cheaper then they were worth… but they were gone.



A month ago…



I get an email asking about the motor I had for sale on Craigslist.(mind you I have gotten numerous lowball offers but nothing that I would start over again for) In the Email the guy asked some questions about the motor and we exchanged a few emails. The next email I got said "I would like to take that motor off your hands for you". The guy came down the following weekend and looked at the motor and handed me what MY ORIGINAL PRICE was, In cash money. So I instantly went on a search for a Shell, And found one a few days later on a local forum that was at a great price and didn't need too much work. I setup a time to go look at the car, It was in decent shape. The car used to be fully built motor w/sc62 blah blah. But he took all of that and out it in his 2g. Since then the car had been sitting for a while in a field, so it needed a very good cleaning(which I planned to do anyway). But it hadn't been molested like most of the other cars I had found. So I picked it up.


Okay now that we are all caught back up, lets get to the important part of this thread… I got the car home and gave it a quick wash, Then into the garage it went to start getting torn apart.




I started with the engine bay. Unfortunately, My camera decided the before pics weren't important. But I went to work at taking off the bumper hood and IC. Which btw is the weirdest setup I have seen, But we'll get back to that later on in the build. A friend showed up to help speed up the process and we went to work.




And before we knew it we had almost everything out of the bay…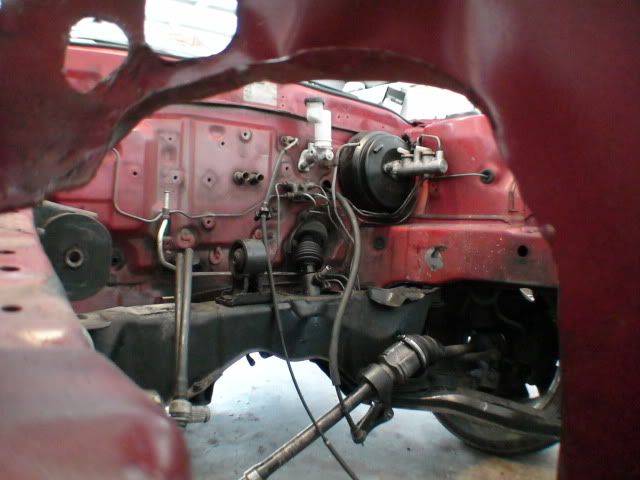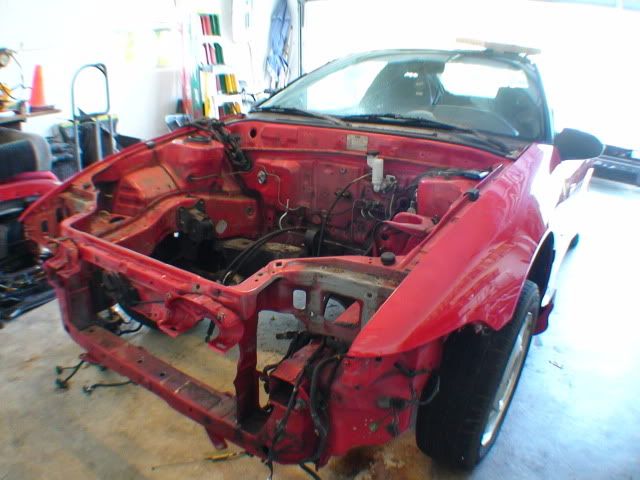 So The engine bay was done for now, And my buddy had to leave. So I started Stripping my interior, But once again the Before pictures disappeared. The car had full interior when I started, not so much when I was done with it ; ) So while my camera was busy digesting my pictures, I was busy working away at the interior. About an hour went by…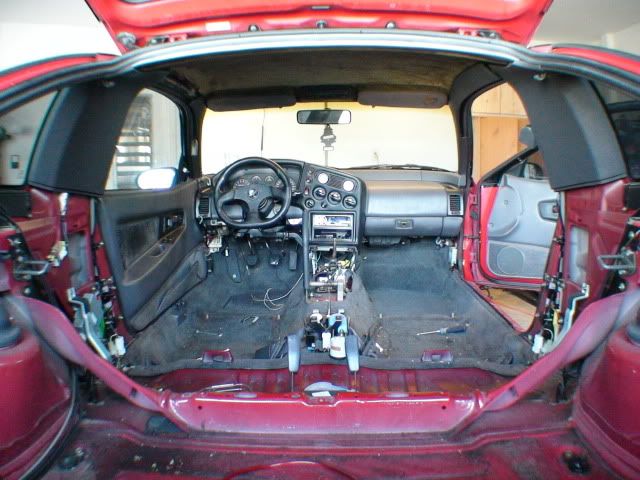 A few more hours, And I decided to call it quits. Spent most of my time chasing and killing spiders, they seem to have made their home on the car since it sat in the field for a little over a year.




Well that's it for now, I'll post some more when I get back.