Quote:
Alright Hemi let me reiterate my point.
What i am trying to say is whether you get cheaper parts,free dyno time or have a shop build your car it will not drive itself down the track.
Obviously sponsorships help out because it gives you a clear advantage over someone who has no sponsors.
Hopefully now you understand what i'm saying.
If you disagree with this then you are
my friend.
Now i don't think the manifold on JP's car was a shearer.
I'm pretty sure he mentioned he put it together himself.
I may be wrong of course.
Also we both know JP's car had much more in it and please don't mention the word light.
Weight should not be a factor when talking about CSM's especially between csm's.
Bobby's car is light and so was JP's.
I think you're just gay for Bobby but that's just me.
Anyone remember this car?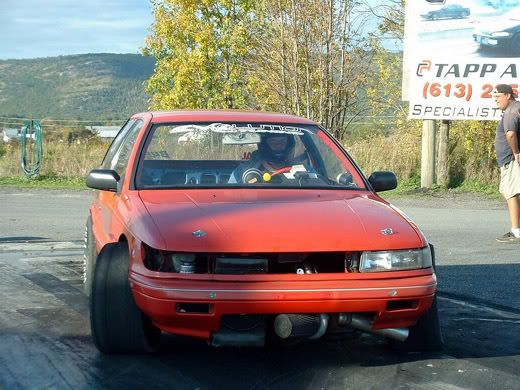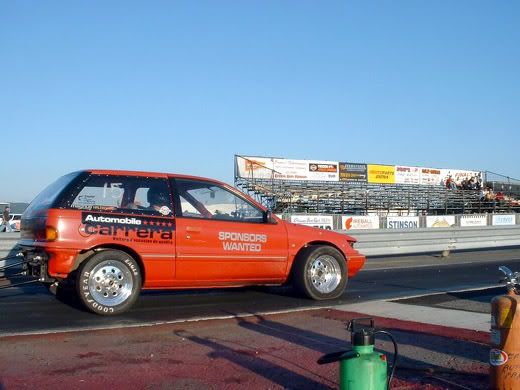 That red colt was a member here, 1slowcolt. Got to see it run, bent the throttle shaft when I saw it running. Block concreted, frost plugs blowing out all the time, so running straight water, Haltech standalone, ...... motor was pulled out and installed into a buddies 2G Talon following that. Car was sick, have some more pics of it too. I recognized that photo or at least the Tapp Auto name. Tapps dad was Dean of transportation at Algonquin College here in the Capital, Ottawa. Anywho, Chris Tapp was faster when I saw their two cars, Colt from Dan at Evolution Tuning and Chris of Chris Tapp Auto, running back on a stupid hot 40+ Celcius day with humidex. Dan's car broke part way down the track and still rolled in the 12's, Chris took the monster AWD 2G to 9.95 corrected to 9.5 as was stated over the intercom. Ah, memories of Luskville, back in 2006?
Anyways my story does not contain a Colt in the 9 or 10 second bracket, but one should have been.