Haha yea it's definitely come a long way. It gets abused pretty much everytime it leaves the garage, but I guess that's better than being crushed and melted. A couple quick updates. I went to the track and first pass went 11.0 at 136 with a 1.68 60'. Definitely rusty launching an AWD car. Plus I had the launch control at 5250 to start which I quickly found out was way to low. Next pass upped the launch control to 5750 and cut a 1.52 60' and got locked out of second on the limiter. F*** this, next pass upped to launch control to 6500 and cut a 1.44 60', clean 1st to 2nd, and 2nd to 3rd, and intercooler pipe pops off. 90 degrees out and a ton of cars so just decided to swap the slicks and drive home.
Made the 50 miles trek back home no issues. The clutch was feeling kinda odd all day and after getting home I guess I pushed my luck a little too far and decided to give my Dad a ride for the first time since converting to AWD. We went to grab dinner less than a mile from my house and on the way did a quick 2nd through 4th pull. Immediately after the pull I go to push the clutch in and there's no pedal. Luckily there was a green light and I coasted into the restaraunt parking lot. Slave took a shit on me. I've been having lockout issues for a while now and I was kind of hoping this was the culprit. Anyways long day... called AAA, got some food while we waited and called it a day.
Pic at the track with the slicks on...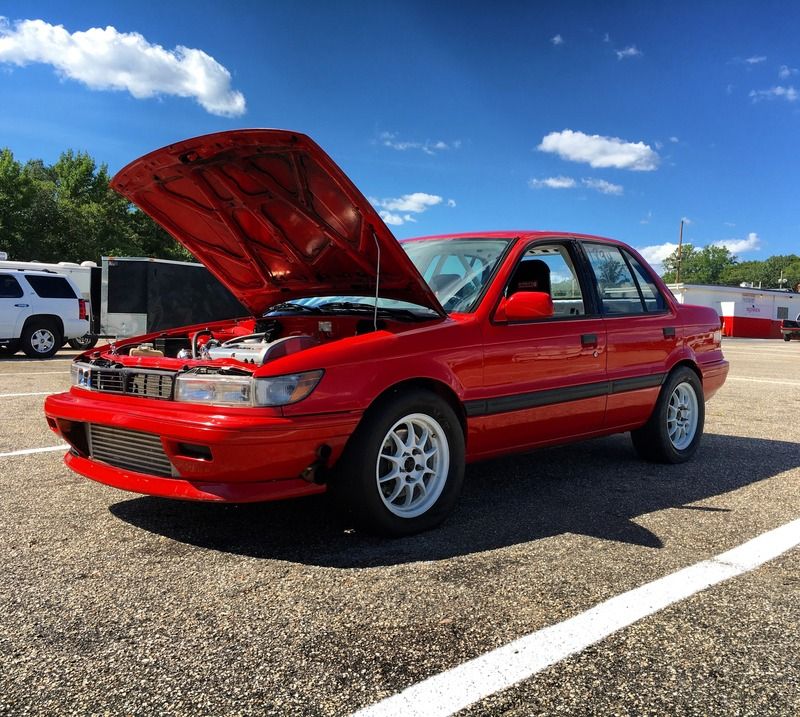 Hit up amazon and got an OEM slave and also picked up a new Yi 4k Action Cam (amazingly nice half-price GoPro) for ensuing shenanigans. First test of both the camera and slave show promising results....
https://www.youtube.com/watch?v=wqMz4388Mq0
Haven't been back to the track yet, but been putting in some street time...
Put some buses on a intake, exhaust, tune Hellcat (obviously pre-new camera and pretty much the reason I bought the new camera hah)...
https://www.youtube.com/watch?v=9JnN2EMImXo
After a local meet I was cruising home looking for a run and these two bikes merged on right in front of me. Don't know them at all and the whole interaction from me rolling up on them to getting off the exit is the entire video. As far as I could tell they both had exhausts at the least and one was stretched. I'm not a big bike guy so if you guys can tell what they are please share. When I first revved at them they both looked at me and pretty much laughed. Gave them a little 2nd gear to get some interest and they bit. They couldn't catch me the first run and they kept coming back for more from there. Good times...
https://www.youtube.com/watch?v=jsaGteJx5yA
Last night was the best test so far for the car. Huge meet that brought out some seriously nice cars. Probably 40+ cars and a 150 mile round trip to the spot and back. I was the only car under 25-30k and most were 40k+. No one would run me until I beat the shit out of an R8. After that it was on. Probably did 20+ runs through the night and the car didn't skip a beat. More proud of that than anything honestly. I didn't get all of the runs on tape because honestly it was nonstop, but here's the runs I did get...
https://www.youtube.com/watch?v=DdMvhV8ceoI
-supercharged M3
-V10 Audi R8
-C7 Z06
-Switzer P800 GTR
-Full bolt on E85 GTR
-Modded Camaro
-2015 Modded Viper
The only close race I had the whole night was the C7 Z06 and that was my own fault. Next mod is putting a horn back on the car. I can't hear shit in the car and basically just have to give the hit up and wait for them to go and just react from there. That's not going to cut it with some of the faster cars around here. Hopefully get back to the track here soon with updates.