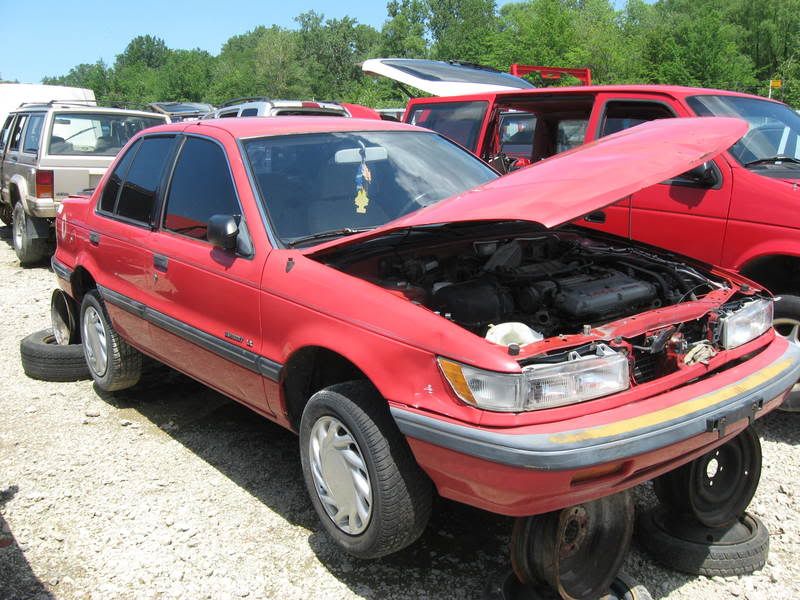 Just Kidding..... Sorry this is long overdue, but figured I'd atleast post something on the progress. Sooo over Summer I got a smoking deal on a complete rear subframe, 4-bolt LSD rear, Shep stage 3 trans, t-case, axles, and that got the ball rolling. Got the parts cleaned up and picked up some other parts along the way including expo spindles, Elantra control arms, 3sx adjustable upper controls arms, solid subframe bushings, and a bunch of other stuff along the way.
I had picked up some CSM specific K-sports earlier this year, so the fronts bolted right up. The rears obviously wouldn't work with the DSM subframe, so ended up cutting off the bottoms of the sleeves and getting heavy duty heim joints that were the correct size for the DSM sleeve. That go the coilover on the rear but still had the unwanted binding of the springs up top. Ended up cutting the strut towers to get them leveled out.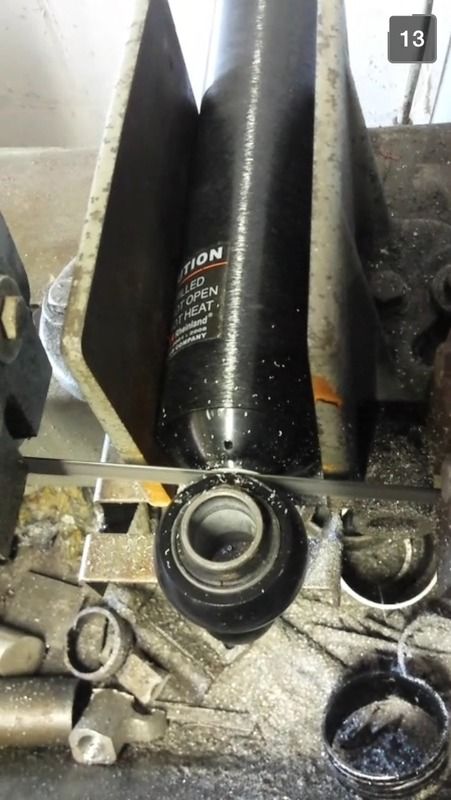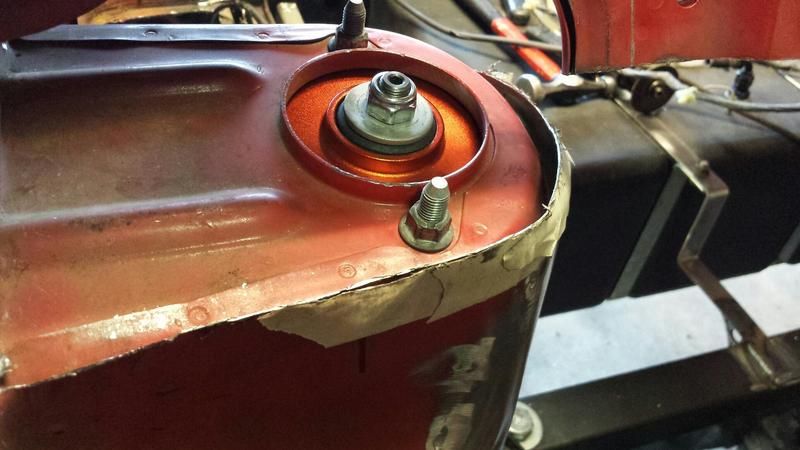 I had a stock DSM driveshaft but it was kind of shitty. Last year I ended up on a flight with Loan Prayoonto of Prayoonto Racing Honda fame (they have a bunch of nasty Hondas including a low 8-second turbo Integra and she drives a NA Civic hatch sponsored by Driveshaft Shop that's gone 9.6's at 144 which is crazy to me). Anyways she became a good friend and she got a me a deal on a 3.5" aluminum driveshaft I couldn't pass up. It gets rid of a carrier bearing and hopefully some drivetrain shock resistance to keep the driveline parts alive.
A big thing we, I say we because my buddy Russell did the fab work for the build. Obviously he killed it throughout the entire thing and you can clearly see the quality of work he does. So it was decided we were going to try and get the driveshaft as straight as possible whatever it took. In order to do that the frame needed to be notched in several places in order to move the subframe up into the car. Even the cross bar that the subframe mounted to had to be cut and boxed back in to fit the driveshaft. This also gave the car a ton of ground clearance with the whole setup tucked up nicely. Everything was boxed back in and the subframe was officially straight and in the car. The goal was a driveshaft angle of about 2 degrees, which is the least amount of angle necessary to still keep the bearings lubricated. It's right on the money and looks badass with the driveshaft. It is really unfortunate it's all going to be covered up.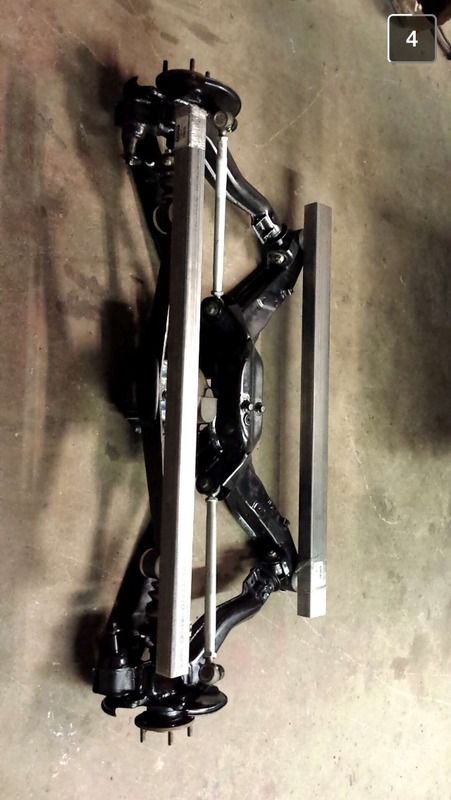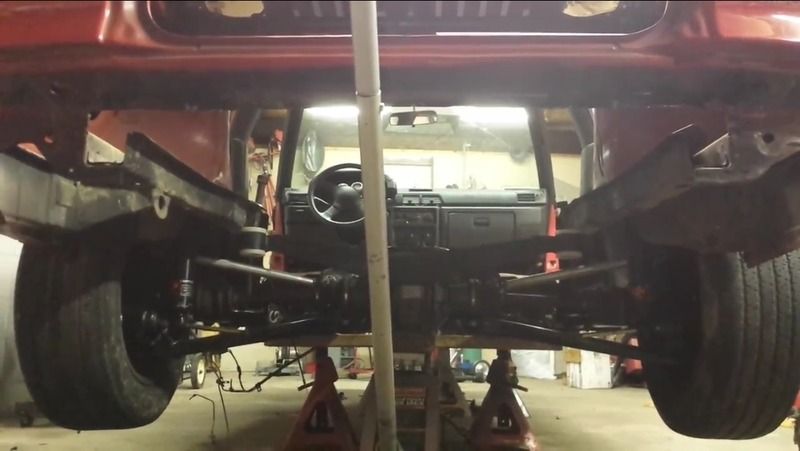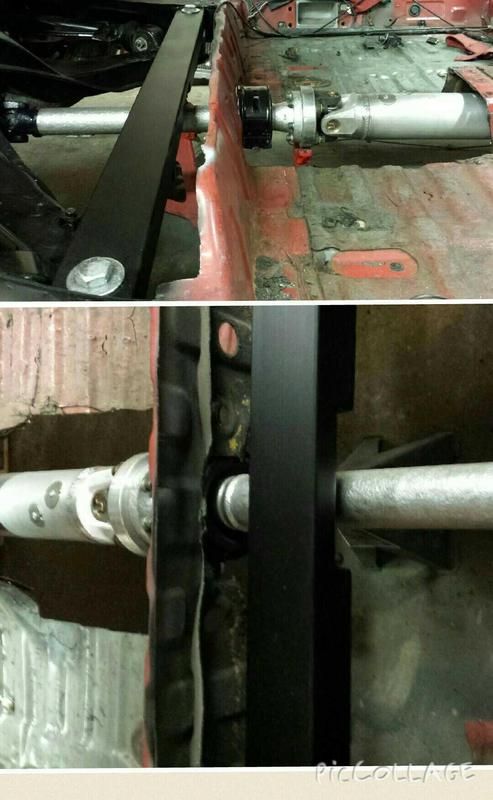 Next was the driveshaft tunnel that needed to be remade to fit the driveshaft.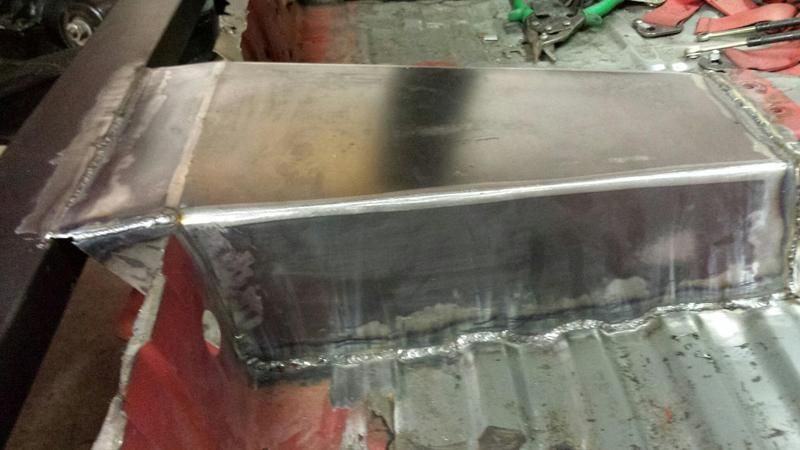 One thing I really didn't realize was how tough it would be to find quality lightweight 5x114 wheels in 15x7. Obviously the car was being converted to 5 lug so a new set of wheels was necessary. Of course I could have picked up a set of slipstreams, which I was very close to doing after struggling to find anything, but everyone has those and I wanted something a little different. After searching for weeks without any real luck I finally found a set of Enkei ES Tarmacs on Ebay. The only issue was they were in Malaysia and were asking $600 for the set and another $150 for shipping. There was a make an offer option so I figured what the hell and lowballed the shit out of him. To my surprise, within 2 hours he accepted and I got them for about $450 shipped to my house. That's cheaper than Rotas so I was more than happy. Even more surprising was they got to my house in Cleveland in less than 5 days. Couldn't believe it. Ended up with a reputable wheel and the best part is they weigh 10.2lbs. Of course, a week later I found another local deal on a set of DR17 wheels with a brand new set of 235/60 M&H Biasplys. It's a little taller of a tire at 25.4" than I need, but for the price I'll give them a shot and sell the tires and keep the wheels if they don't work out. Both look mean as hell on the car and I'll get some better pics as it gets nicer outside.
Didn't really have too much of a plan for the front end, but somewhere in the middle of everything it got chopped off and a chromoly tube front was added. Shed some weight and gave me a ton of room. The front motor mount was pretty damn close to the turbo outlet so the mount was extended and fits like a champ now. Also ended up cutting a bunch of the already hacked up sheet metal up front and using 1/4" round bar instead. Looks a ton cleaner and definitely stronger.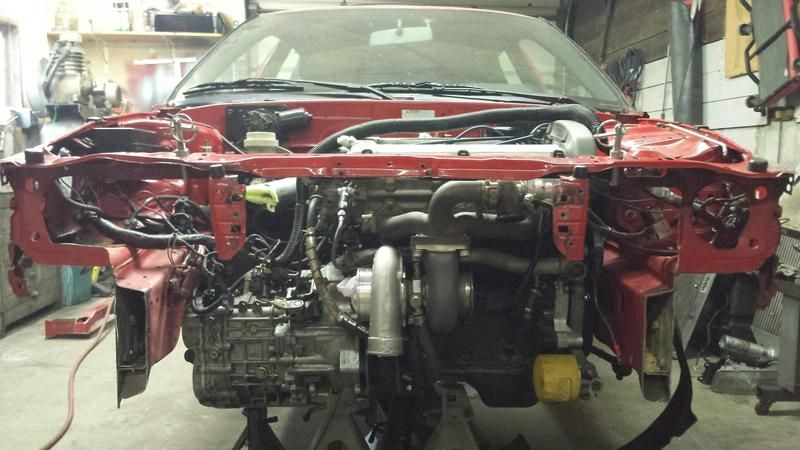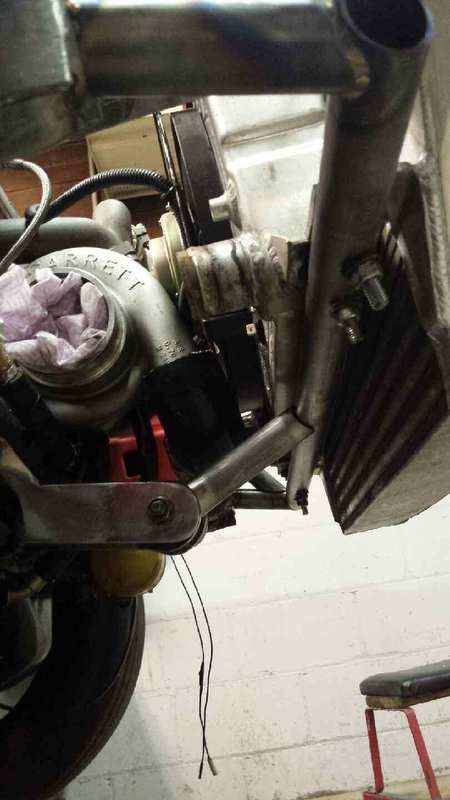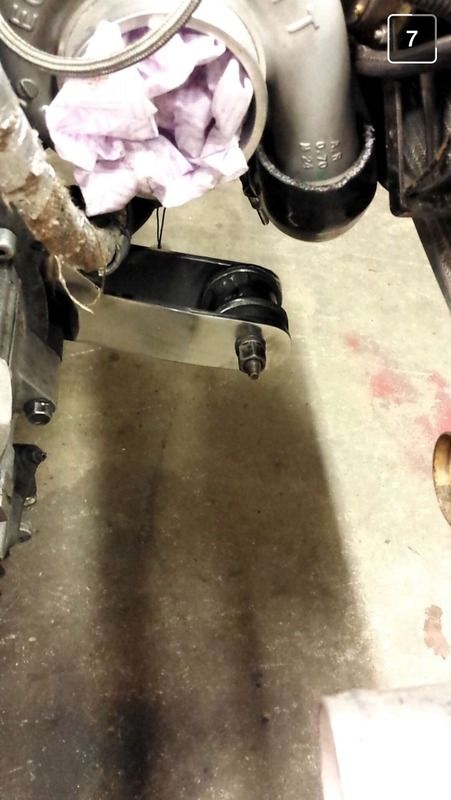 Even before the AWD swap, the car desperately needed a brake upgrade. Slowing down from crossing the traps at 140 with the single piston setup was getting a little old. In my search for a dual piston DSM setup, I got a great deal on a full Outlander front brake setup. For those that are unfamiliar, it's basically a dual piston DSM caliper with a special bracket that spaces out the caliper and allows you to run about an inch larger rotor. It was a better price than I could find on a regular DSM dual piston setup so I went for it. Also the rotors were dual drilled for 4x114.3 so if they didn't clear my 15" wheel setups, which was my main worry, I could throw the whole setup on my Evo 1 which has 17" wheels and use the Evo's regular dual piston setup on the Summit. The outlander setup barely cleared on the DR17's and of course wasn't even close on the Enkeis. I kind of had an idea this might happen, so off they came. My buddy actually had a BNIB set of factory 2g AWD Caliper brackets he donated, so I threw those on and everything fit perfect. And the Evo happily got a brake upgrade.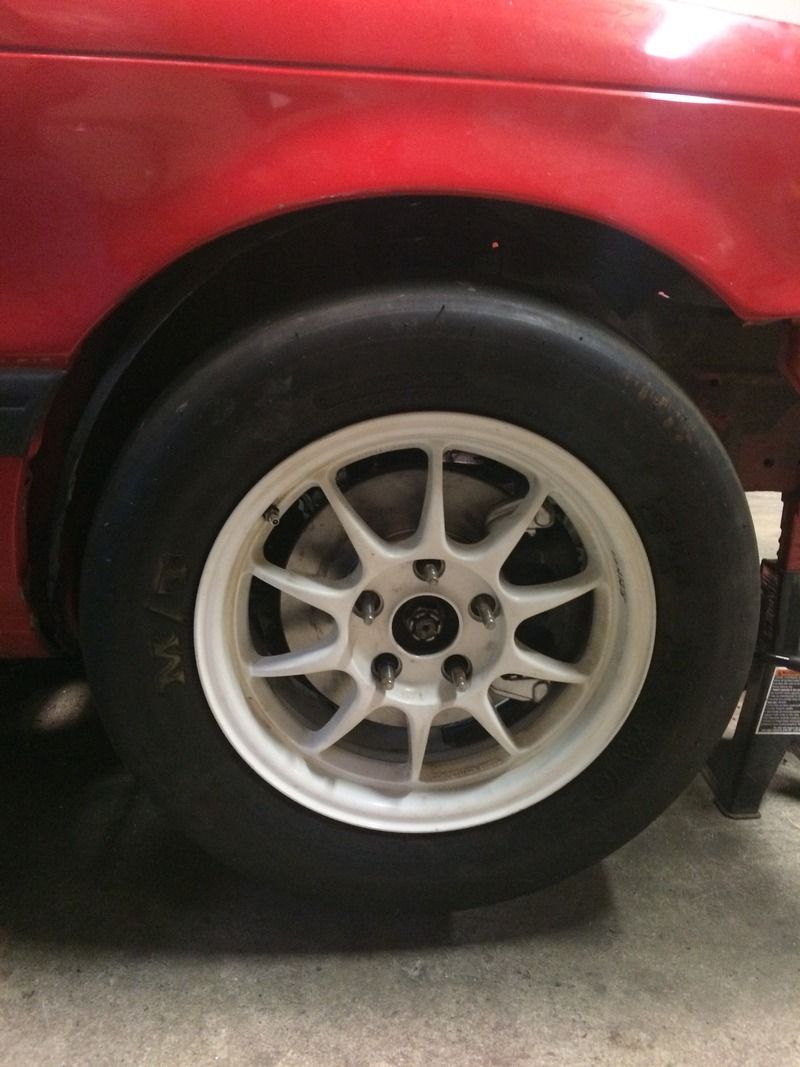 The car went under the knife Oct. 1 and on Nov. 30th the car was back on the ground. We put the coilovers in the middle of their adjustment to see what we were working with and this is where it ended up. Even with the big ass tires, it still looks like it's going to clear the fenders and the control arms clear as well. How it squats with 10lbs in the slicks is still TBD but it's looking pretty good.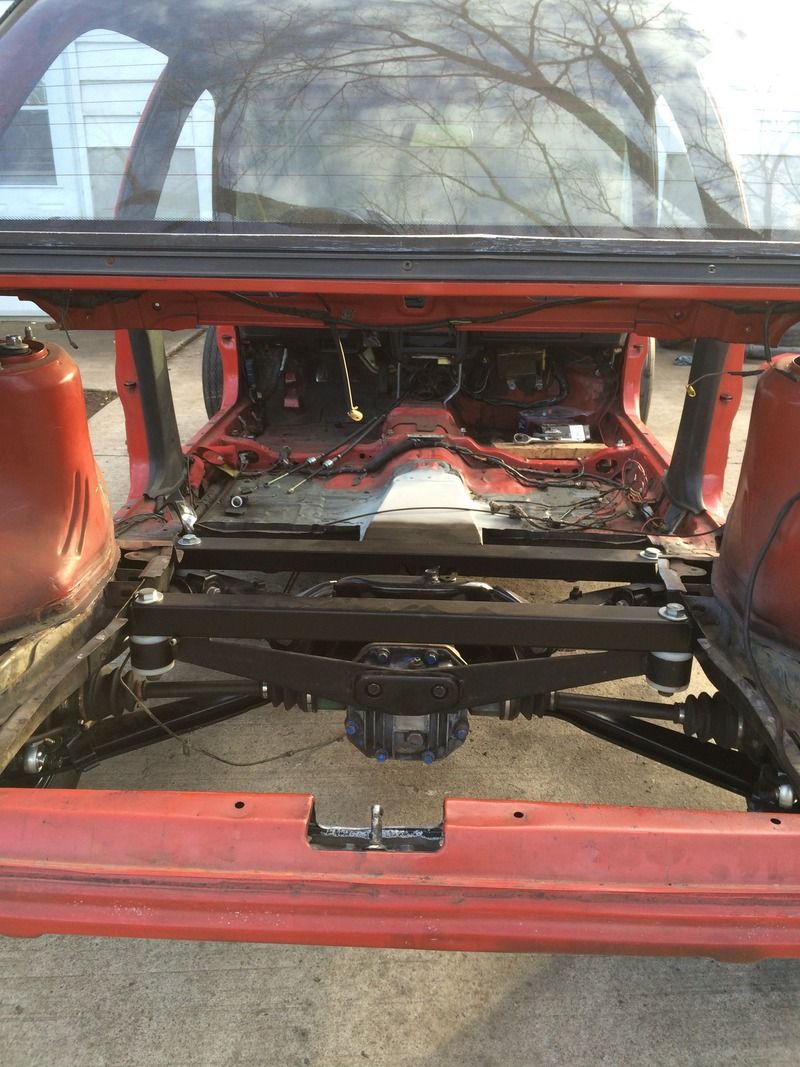 New rear floor
Next up was the cage. All chromoly 1 5/8" and should be certified to 8.50's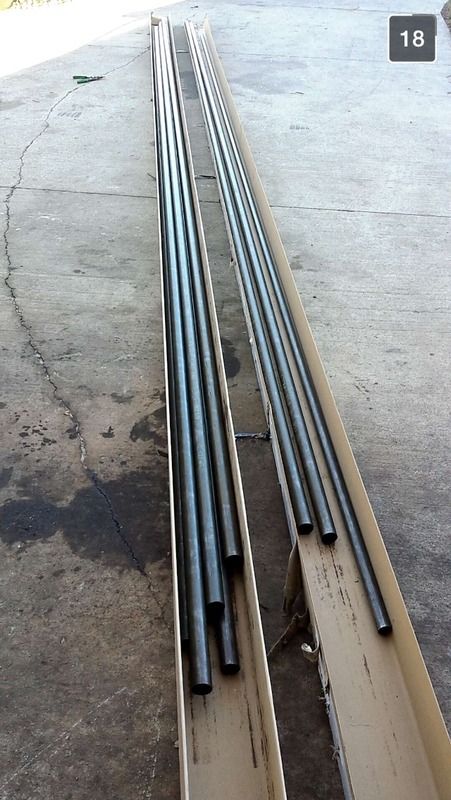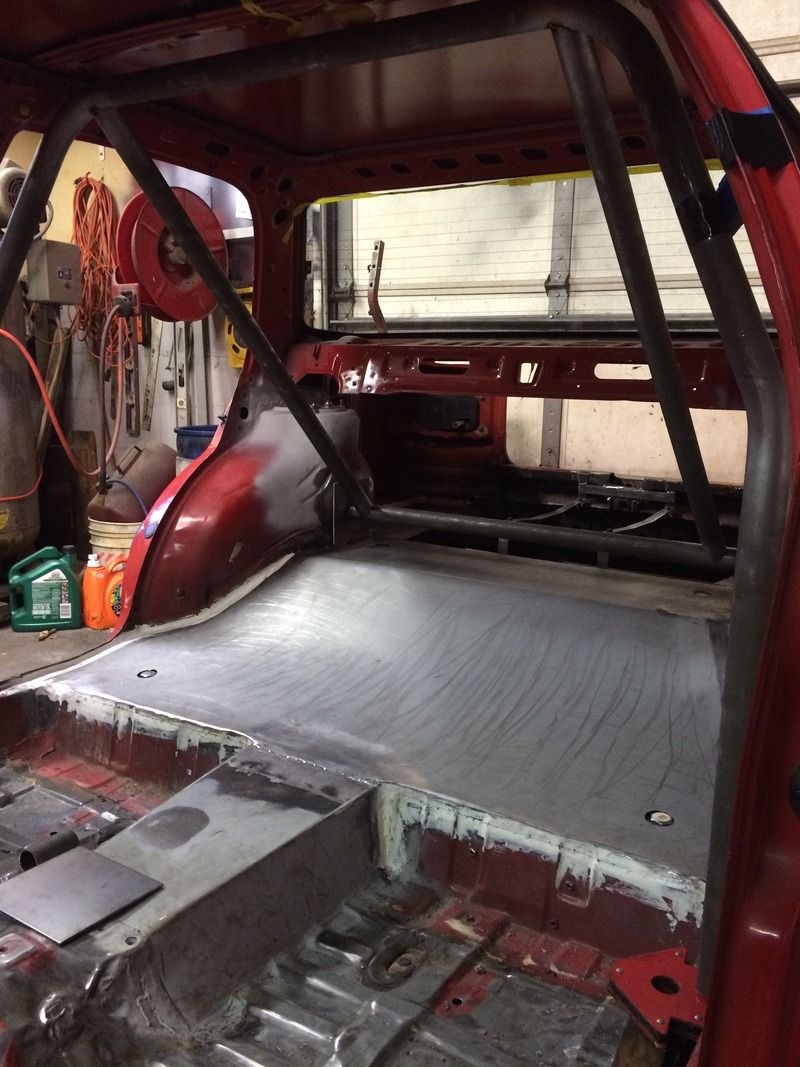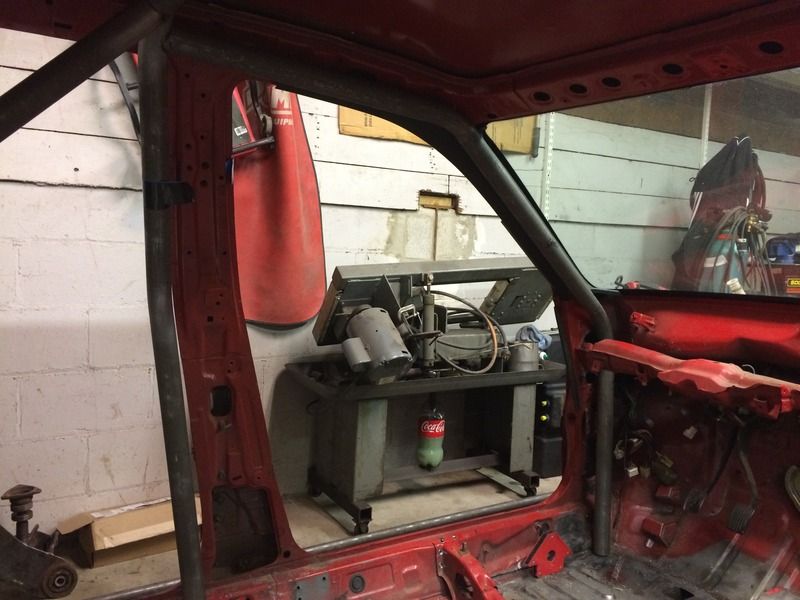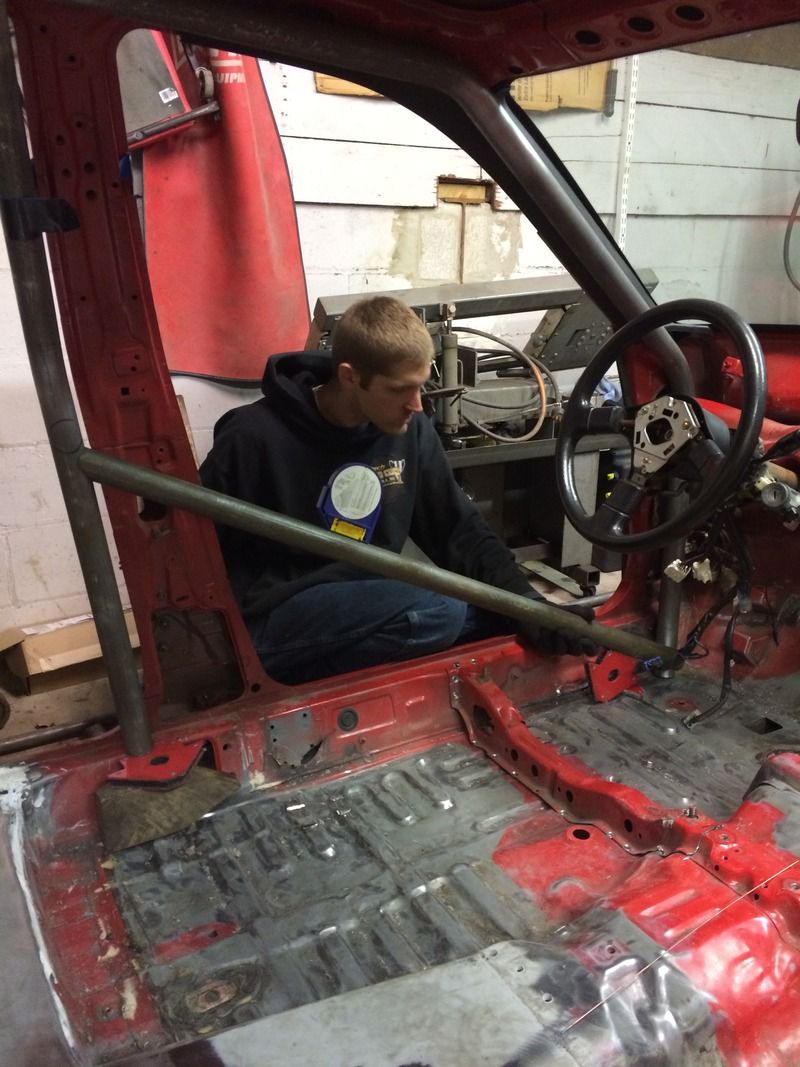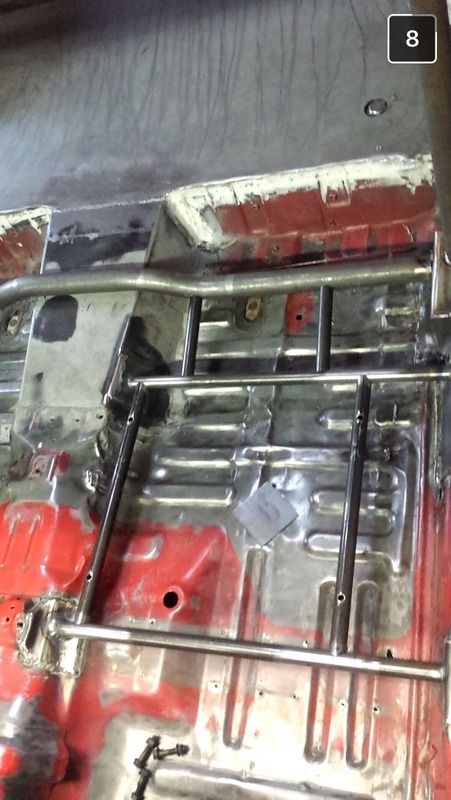 I had a single Sparco in there, but was having trouble finding a matching seat. During my weekly Craigslist searches, I found a local drag racer getting rid of expired Kirkey Pro's and a set of 3 legit 5-point harnesses for $200. Couldn't pass that up and I think they're going to look great when everything all painted and done.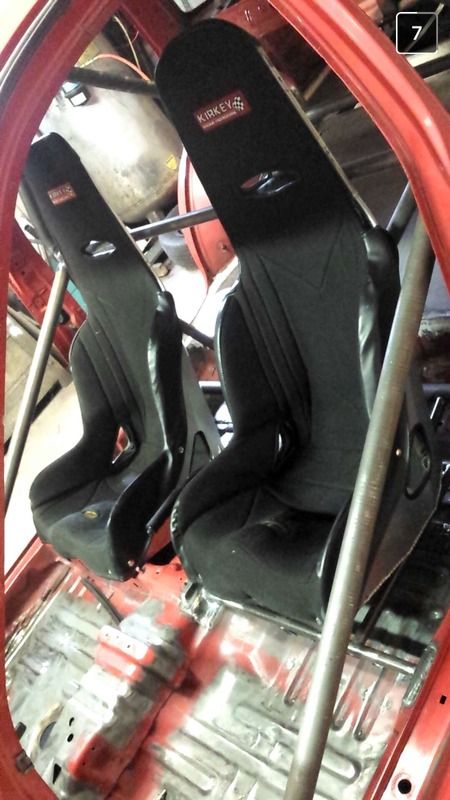 More updates to come soon…