Well way behind on all the updates but I figured I'd try to quickly update before the Shootout next weekend. So after a couple moves and a busy 2017 I still managed to put about 3800 miles to date on the car since the AWD swap. And those aren't cruise miles, it gets thrashed on every time out. All these races were on the old setup which was a beat down 120 compression eagle/ross motor, 6466 on 38psi, and a complete stock drivetrain.
First real test for the car vs my buddies 890whp EvoX
https://www.youtube.com/watch?v=L2IL-OtdPsg
Fully built nitrous C6Z
https://www.youtube.com/watch?v=EeBa3E2m1DM
At the end of 2017 I finally ended up getting some time and drove to MIR (local track). I slowly added some timing to it and last pass ran a personal best of 10.05 at 144 at the end of 2017. My buddy was hosting the track rental and about half the cars were exotics so kinda cool I got to beat on some cars worth about 20x the Summit.
https://www.youtube.com/watch?v=B4zRuFJfq5s
I was pretty happy with the car other than knowing the motor needed a refresh and was content really keeping the car how it was until my buddy sent me some info about a guy selling a dogbox and bunch of other really nice stuff. I ended up with a PPG Dogbox with a 5th gear, Tilton Carbon Carbon, 300m Tcase, JMFab top mount, and a 3.5" driveshaft for a downright crackhead deal. This was mid 2017 and once I had all that stuff in my hands I decided to basically redo everything for 2018. I knew the motor was on it's last life for a while, so I picked up a used 9:1 Wiseco HD/GRP shortblock from a local guy. I also traded my old 35r for a CNC'd head, dual valve springs, A1 head studs and some other goodies.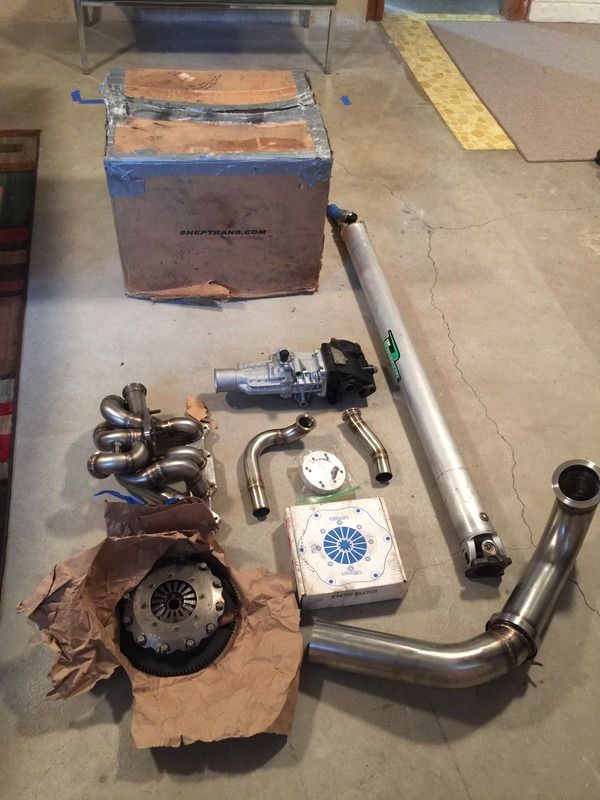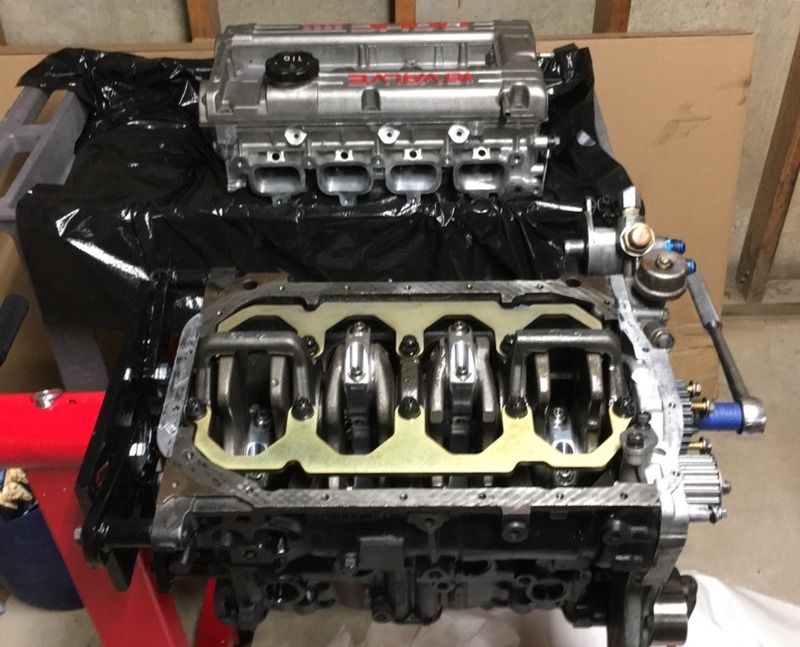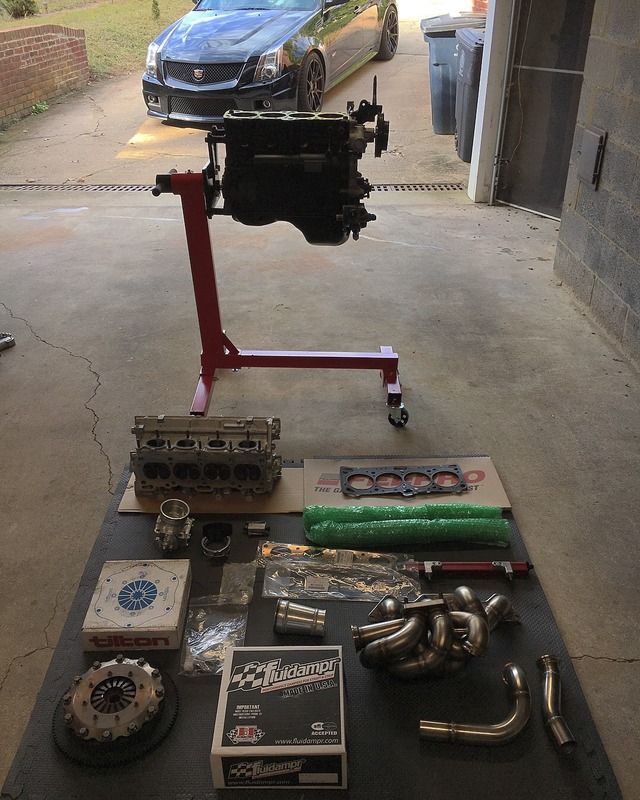 Things were coming together so about December 2017 I started getting all the fab stuff out of the way while the old motor was still in the car. I sold the ERL, Forrester IM, and 6466 and used the JMFab top mount, upgraded to a Magnus V3 and went to a divided t4 6870. I ended up having to redo the front mount and radiator positioning, intercooler piping, changed the fan to a push setup, new exhaust and dump tubes as well as fit a 3" throttle body elbow to clear the master cylinder.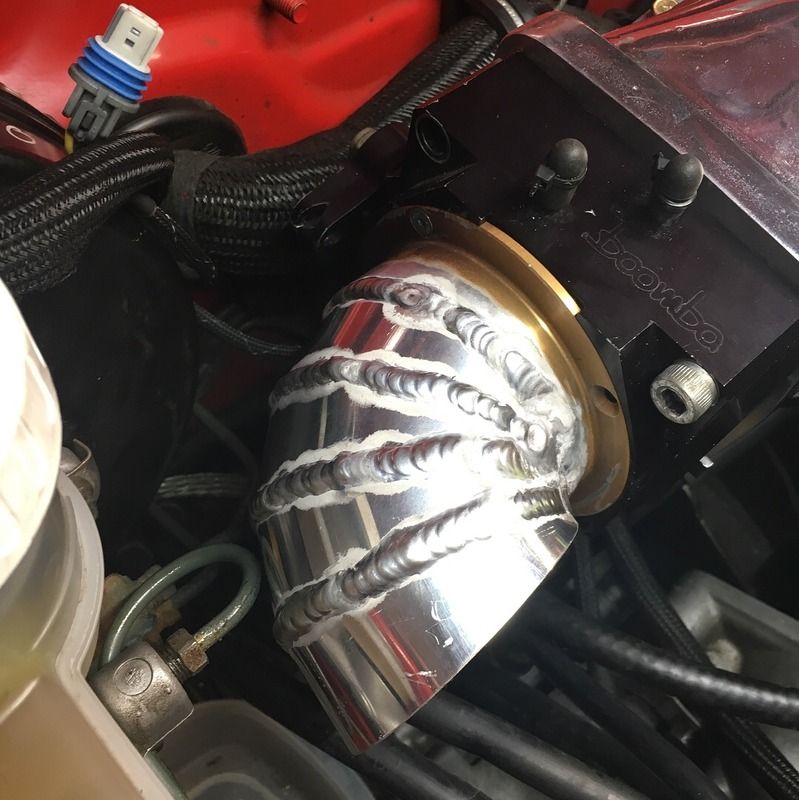 After the fab was done, the old motor came out and new motor went back in. The Magnus was polished when I got it so I figured I'd stick with the theme. I bought some chrome powdercoat material and my buddy let me use his gun and oven. It came out a lot better than I thought, but we'll see how long it lasts. I also cleaned up and painted the rest of the front end red to match.
Because I changed soo much I figured I'd get the car up and running with my previous SouthBend Clutch and stock trans first before throwing the dogbox in there. I put some miles on the car and everything seemed good, so I drove down to Dave Katz in Fredericksburg so he could work his magic. We didn't want to push it too much on the single disk clutch and stock trans so we stopped around 37-38psi where it ended up making 815whp/560wtq. I had already sold my other wheel and tire setup so I drove down to the dyno on my spare setup which has 195/50/15 Hankook V2s on them. Needless to say that was a fun ride home from the dyno. It would haze the tires off through the top of 4th gear. First three gears were useless, almost felt like I was fwd again haha. I picked up a set of 225/50/15 ET Street R's for street duty and it's by far the best tire I've run. It'll almost dead hook brake boosting 30psi in 2nd gear.
First start with the new setup...
https://www.youtube.com/watch?v=yDuaUJJGhYM
Dyno day...
https://www.youtube.com/watch?v=lw8kFDKd5C8
First real test with the car was a 1050whp local Supra. He took the hit and I was slowly reeling him in. He said he missed 5th. This was around 32psi first night out still on stock trans...
https://www.youtube.com/watch?v=R3vkN45qy_E
Last month I finally swapped the dogbox, Tilton, and new tcase in. I've never driven a dogbox before so wasn't sure what to expect. First drive around the block wasn't as bad as everyone says but I will admit I wouldn't want to daily or sit in traffic with it (not that I did with the last setup either). You forget all the downsides the first time you shift it fast though holy shit. I know my last trans was a piece of shit that wouldn't shift but this thing is another level. I get what they say now when they talk about sucking right into the next gear. Anyways I took the car back to MIR for an IREV event a few weeks ago. I only got one clean pass before the rain came and I went 9.9 at 150 on a really shit pass. I botched the launch among other things but was happy to atleast run my first 9 second pass. The car's got a ton left in it and hoping to make some clean passes at the shootout.
9.9 at 150...
https://www.youtube.com/watch?v=pWGmBjsriYo
Another angle
https://www.youtube.com/watch?v=F-E7d9BNhU8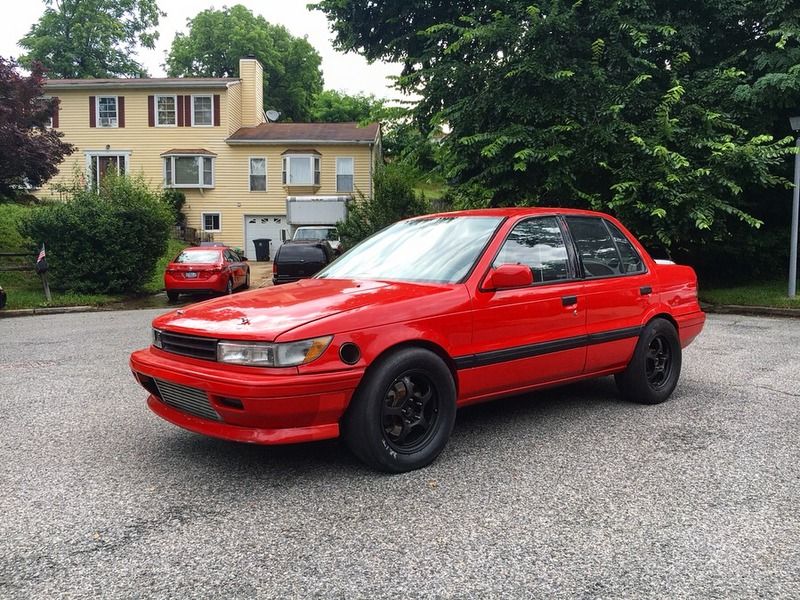 Last time I had the car out I ran some local guy in a sueprcharged auto C7 who's been talking shit for months about me ducking him. I did a little 2nd gear hit right before racing him and felt the car immediately hit what I felt was a limiter. I look down and see my speedo at 0. Immediately I knew I broke my speedo cable and I couldn't get my laptop out of my bag in the back to change my launch limiter back up so I was stuck with a 6700 rev limit. Still managed to beat his ass haha. After we got back to the spot I changed my launch limit back up to my normal 9500 rev limit and raced another local evo and my good friends full bolt-on e85 GTR. Next up was a 1000+WHP V wagon and big single turbo C6.
Supercharged auto C7 -
https://www.youtube.com/watch?v=JX_wZl2jlks
GTR and EVO -
https://www.youtube.com/watch?v=oMx2plHX9zY
V wagon and turbo C6 -
https://www.youtube.com/watch?v=Oe43iWuw5zk
I'll try to keep this updated better and hopefully see everyone at the Shootout.